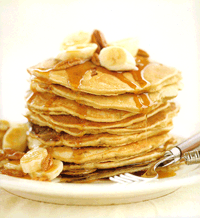 Squeeeeeeeeeeeeeeeeeeeee!
International House of Pancakes is researching locations in the Pittsburgh area. A company spokeswoman said RMLS-HOP Restaurants PA LP, headed by Chris Milisci, has signed a development deal to open 12 restaurants in Pennsylvania, including in the Pittsburgh market, in the next nine years.
Pancakes pancakes pancakes pancakes. I love pancakes!
IHOP was our study location of choice for all nighters in Texas.
Research no further, IHOP. I got your first location scoped out and it is called "Walking Distance from PittGirl's House."
Also, do NOT do a Google image search for "pancakes."  That second picture almost made me toss my cookies.
Now WHY did you go and Google it?  Sicko.
(h/t Sofa King)