Do you remember how incredulous, dumbfounded, and incredibly icked out I was when I learned that there were women who use washable, reusable menstrual pads?
And do you remember how by researching reusable menstrual pads I stumbled upon an entire other set of women who use washable, reusable, hand-crocheted TAMPONS?
I know what you're thinking right now.  You're thinking, man, I wish I could make me some hand-crocheted tampons because that doesn't sound like it would be ouchy or itchy at all to shove up my bajingo, take it out, throw the cotton away, toss the tampon in the washing machine with the kitchen towels, insert more cotton, and then shove that freshly washed hand crocheted tampon right back up my bajingo. (This might be late notice, but boys, you might want to not read this post.)
You're in luck, because two local ladies/Awesome Burghers, one of whom is a former fierce roller derby chick named Fonda Bruises and the other is her friend Jill, have filmed a video at their most recent Ford City Stitch 'n Bitch, in my honor no less, that teaches you how to quickly, and boy do I mean QUICKLY, hand crochet your own reusable tampons, IN TWO SIZES!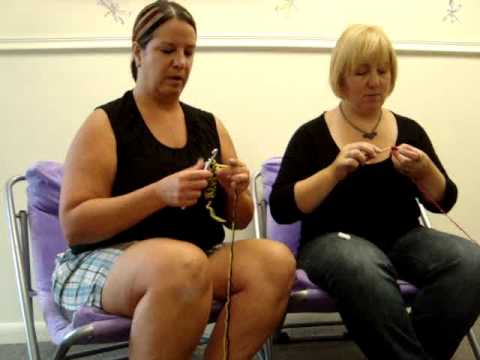 Notes:
1. They did that so fast! I bet if they were in a bind, say in a restaurant and they realized that their Aunt Flo just arrived unexpectedly as they sat there, they could whip out some yarn, crochet a quick tube, grab their dinner napkin, shove it in the tube, and then excuse themselves to the restroom. Voila!
2.  Good ole Rhonda, giving her Super Tampon for Super Flow Days a "rounded, more comfortable tip."   I don't know how they did this with a straight face.  I applaud their poker faces!
3.  I want you to know that I could be down to my last cent, and I promise you that I will sit on a downtown sidewalk with a sign that says "Spare some change so I can buy tampons" before I will ever use one of these toxic-shock inducing death tubes.
4.  Red yarn seems like a good choice of color if you're going to make yourself a reusable, crocheted tampon.
5.  Gotta love the black and gold.  Can't you just hear a tree hugger getting ready to head out for some tailgating, then saying, "Oh, crap. Hang on a sec.  I gotta put in my lucky Steelers tampon."
Somewhere, Jeff Reed sits reading this all, "HAWT!"