My inbox is normally a very diverse set of incoming messages ranging from the "Wow. You are the suckiest suck of a blogger that ever did suck at blogging" to the "Oh! I thought of you today!" and to the "Thought you'd get a kick out of this!" to the "Will you marry me? Love, David Conrad."
But since Sunday, my inbox has become so predictable that I don't even need to read the messages.  I already know what they say.  They say, "OMG. DID YOU SEE THE PIGEON THAT PLAYED SPECIAL TEAMS FOR THE RAIDERS?!"
Here's the video: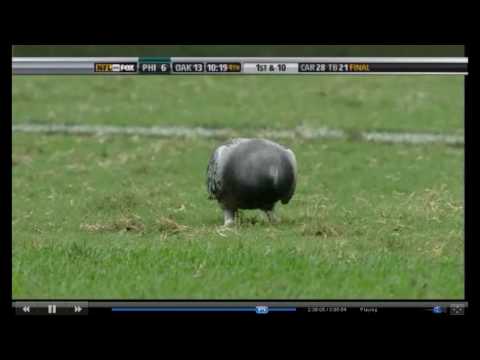 Thoughts:
1.  I love that the Raiders were trying to shoo the pigeon away and the pigeon was all, "First, that's funny. Pigeons don't shoo. Second, you're the OAKLAND RAIDERS! Don't act like you're above a little help from your pigeon friends.  We're going to do this thing because you guys are miserable losers, but Satan has big plans for you. Now, you stand there, you stand there, I'll stand here and here we go.  Watch and learn. Eye of the tiger.  Eye of the tiger."
2.  People are acting amazed that the pigeon flew in formation with the line of running Raiders "as if it knew what to do."
Um, what part of KNOWING BASTARD don't people understand?
They aren't animals.  They're trained, computerized demons of Satan. And they know.
They know.
[shudder]