Reader Jonathan emailed me asking me to get to the bottom of something, and as you know, here at That's Church, we dig and dig until the bottom of shit is gotten to.
Jonathan wanted to know if I had any way of finding out what happened to the North Side's famous "Running Lady" because he hadn't seen her in a while — over a year.
And I emailed him back all, "What running lady?!  I've never heard of the running lady.  Should I capitalize Running Lady?  Where does she run?"
He linked me to YouTube and wouldn't you know, there is a woman on the North Side who runs EVERYWHERE she goes.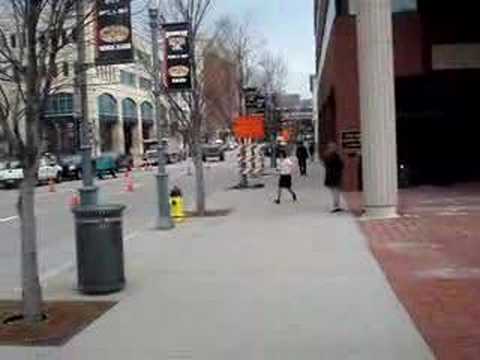 Several things:
1. I think I love this woman.  I wonder if this is perhaps her fitness regimen?  Exercising at all times.  I'm impressed.
2.  Two summers ago, my sisters and I took all of the kids, all 409 of them (it seems), to the Pittsburgh Zoo and after chasing a flock (gaggle? pride?) of children from the monkeys (where I swear one of the mama monkeys wanted to steal my baby) to the bears who were of course engaged in a raucous game of Sleep, Ta-Ta the Giant-Breasted Poobah/Stacey said, "Why do kids run EVERYWHERE?"
Pens Fan/Tammy replied, "I don't know, but man, how skinny and in shape would we be if we ran everywhere?"
And us sisters looked at each other all [LIGHTBULB!!!!] and we tried it.  We ran everywhere we went in the zoo. For about two minutes and then we gave up on that, because not only is that some exhausting shit, boy, will people look at you like you're a couple french fries short of a steak salad.
3.  Has anyone seen the Running Lady lately?  Jonathan is worried and now that I know of her existence, I would too like to know if she's okay.
Let's get to the bottom of this, Burghers.
If she's ill, I'm going to take up a get-well card collection.  I have 409 youngsters that will literally run all over the city picking them up from you and delivering them to wherever she rests.
And they won't break a sweat.
Arrogant little endlessly-energetic brats carelessly flinging their youth in our faces.
[shakes cute little old fist and pops a butterscotch in her mouth and thinks about taking a nap]