Did someone use an airplane to dump a couple thousand gallons of Love Potion Number 9 onto the city of Pittsburgh or something?
Not only does Russell Crowe love Pittsburgh, not only did Jake Gyllenhaal fall in love with Pittsburgh, not only, as I've been told, have two crew members from Love and Other Drugs purchased homes in Pittsburgh, please take a look at this special message, from Russell Crowe to the fans of Australia's South Sydney Rabbitohs, a team he owns: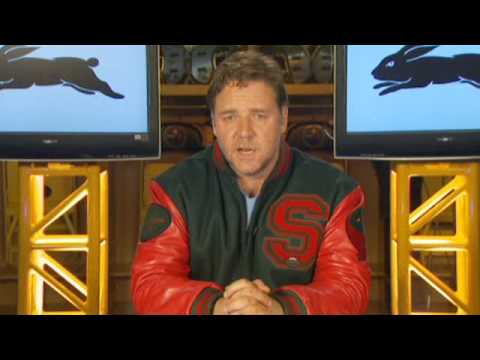 What what!
Also, go read Sally Frickin' Wiggin's blog post about her meeting with Russell Crowe.
I think it's pretty safe to say that when it comes to Russell Crowe, I've gone from "meh" to "Bam!" to "Oh, talk Australian to me, you hot Kiwi."
The way things are going, Pittsburgh IS going to be the next Hollywood, or at the very least one of these days we're going to turn the corner of a dark alley in the Strip to find David Conrad beating the shit out of Russell Crowe and Jake Gyllenhaal all, "I. Saw. Her. First!"
(h/t Beth and Kiss Morning Freak Show's Mikey)