One of the most fun things about being married to a man whose first language is not English is when the laws of Spanish pronunciation bitchslap the laws of English pronunciation.
Particularly early on in our marriage when his English, a language he completely self-taught, wasn't as smooth as it now is, I got great giggles out of asking him to pronounce the word focus.
Me: Am I bugging you?

Him: No, but I need to fock-yous on this stuff.

Me: [snicker]
or
Me: Honey, what do you call that car?

Him: It's a Ford Fock-yous.

Me: [snicker]
He makes his v's sound like b's and vice versa, so voting becomes boating and volleyball becomes bollyball, which is what they play in India, I guess.  Pennsylvania was pencil-bay-nee-ah.
Perhaps one of my most favorite stories is the time this conversation happened in Cancun, before we were married, while watching a Steelers playoff game:
Me: He missed it! (Of course, I'm referring to Kris Brown missing a field goal)

Him: Un-vee-lee-ba-vle.

Me: That was like three inches from being a field goal.

Him: No, I think a few feet.

Me: A few feet?!  No way.  It was like this at most. [hold up two hands to show about six or seven inches.]

Him: Wait.  How many feet are in a foot?

Me: [ROTFLMAO]
And knowing that I don't hear very well and adding to that the fact that he had a very thick accent, during our long-distance Mexico to America relationship, there were lots of phone calls that went like this:
Him: Blah bitty blah blah blah

Me: What?

Him: I said, "Blah bitty blah blah blah."

Me: You ran over a goat?!

Him: NO! I said, "Blah bitty blah blah blah."

Me: WHAT?!?

Him: Que?!

My father, listening to my side of the conversation: [headdesk]
His accent, I don't even notice it anymore, but my family tells me he still has it.  After ten years of marriage, I've learned when it's okay to correct his English and when I should just go in the other room and laugh it out.
All that said, you understand why I had to record this video this morning while he and I were watching the Mexican news and the weather girl tried to pronounce Punxsutawney.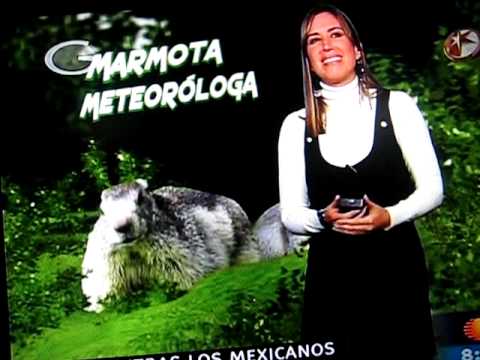 That is un-vee-lee-ba-vly hilarious.
And if you don't think so, FOCK-YOUS!