1.  I'm posting this Random n'at sooner than I had planned because apparently the naked belly of a fat man is enough to get me lots of angry, "YOU ARE SO MEAN!" tweets and more than a few, "I just threw up in my mouth, you big jerkface!" comments.
Poor Casey.  No one wants to see his furry blubber belly with its all-seeing bellybutton eye.
If you look directly at it long enough, it will totally blink at you.
If you need eye bleach, go here or here.
2.  Pittsburgh Magazine interviewed my new fake YouTube boyfriend Colin Sander.
PM: What were people's reactions to seeing you roaming the city in ski gear?
C.S.: Actually, when we finally got to the bottom of Mt. Washington we had to go over train tracks and military crawl under some bushes to get back out onto the road, so finally we stumbled into a parking lot dead tired, and the first thing we heard was a guy yell in this thick Pittsburgh accent, "Hey, Seven Springs is that way!"
Hee.
Also, step off, ladies.
3.  I'm such a Burgh fan-girl because every time I see the skyline in the trailer for "She's Out of My League" I go, "I totally know that city in real life."
Here's a part that pisses me off though.
Do you know how many times and for how many minutes I have sat in that tunnel waiting for a freaking polar bear to so much as dip its toenail into the water, only to leave disappointed and with a sneaking suspicion that as soon as I walked away, the polar bears began a rousing game of Marco Polo?
(h/t Agent Ska)
4.  Are you sitting down?  Are you sitting down on the World's Greatest Pittsburgh Potty in the Universe of the World?  Oh, that we were so lucky.  Check it out.
Who bought this house?  Can I come visit your potty and maybe get its autograph?
5.  Eyetique's little local Boy Meets Girl series has intrigued me, particularly because I noticed the lead female looks a heck of a lot like this model.  Also, now I want new glasses.
6.  A local girl, Tiffany Martin is trying to win the 2010 World Traveler internship from STA Travel.  Go throw her a quick vote! Maybe she'll take us all with her!
How long until a naked PETA supporter chains herself to that billboard in protest only to find herself being shat upon by the very pigeons she's trying to save?
(h/t Michele, Katie, CHARLES!, M.E. and Nick)
8.  Reader Bryan is shaving his head for St. Baldrick's too! He's only raised $20.00 so far, so if you have two or three or five dollars to send his way … IT'S FOR SICK KIDS!
9.  Speaking of knowing bastards.  If you don't believe that pigeons are in fact KNOWING bastards, then please explain to me how this pigeon boarded a subway, does not panic ONE LITTLE BIT while the subway is moving and instead sort of just walks around staring down passengers all, "I KNOW.  I KNOW." and then calmly walks off the subway because, well, it's his stop.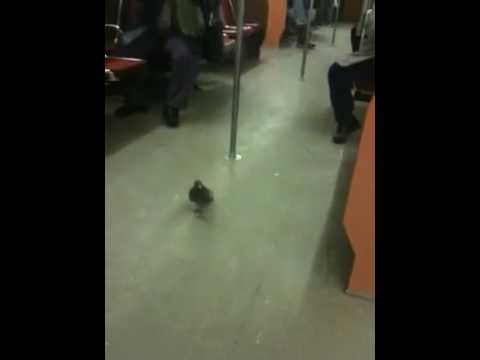 That's the most terrifying video I've ever seen.
(h/t Charles, Mike, Jonathan, and other people whose emails have since been sucked into the abyss that is my email archive)
10.  Let's wrap this up with a What The Effie, shall we?
"if ya not fat,married,amish,ugly,or recently won at a bingo festival , you can holla ."
If you read that in the voice of Luke Ravenstahl, it becomes extra awesome.