1.  The winner of the two tickets to the Lights! Glamour! Action! event was comment #179 belonging to PghScienceNerd.
She has already responded to my email to claim the tickets.
2.  I understand the standing ovation for Ryan Miller last night. I really do.  In fact, hey, Ryan Miller? [BEWBS!]
But I will never understand any portion of our hometown crowd booing Sidney Crosby for winning a gold medal for his home country.
I bet deep down, Sid never expected to hear himself booed in Mellon Arena.
3.  Las Velas stuff.  First, today Las Velas is the Deal of the Day over at Groupon.  You can buy a $50 gift certificate for only $25.  Woo!
Second, I'll be tending bar (with professional help) this Friday for Mariachi Night.  The reason I'll be behind the bar is two-fold.  On one hand, it makes it easier for people to find me that might want to chitchat with me.  Last Mariachi Night, there were a lot of people I never got to talk to and didn't realize they were there until the next day when they emailed me all, "I was there last night!"  COME TALK TO ME, DAMN IT! Also, I'm going to put a little tip jar out and all tips you put in there for me, I'll donate to Make Room for Kids.  Maybe I'll make enough for an extra DS or PSP!
Third, Las Velas will be open for the St. Patrick's Day parade on March 13 starting at 8:00 a.m. for Mexican breakfast (CHILAQUILES!) and then also serving lunch with Irish tacos and Irish burritos.  I'll be there for that too because I promised the husband I would lend him a hand that day.  You know.  ACTUALLY WORKING.  I bet he fires me before the day is over.
4.  Watch The Kraken shove a female fan (NOT PAPARAZZI) to the ground after the Olympics: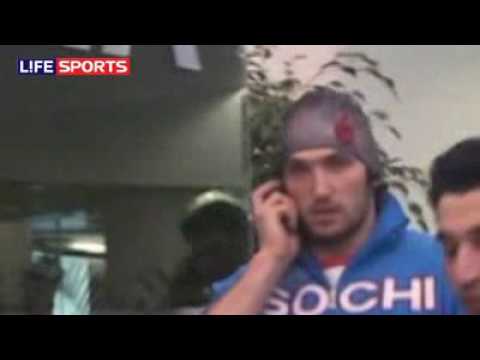 And they say chivalry is dead.
5.  Health officials in Vancouver supplied about 14 condoms per Olympic athlete and STILL had to have an emergency 8,500 additional condoms shipped to the Games in order to satisfy the demands of the Olympic sexcapades.
Related, upon hearing this news, Jeff Reed took up curling lessons.
(h/t Erica)
6.  A local woman had a decade-long pen-pal friendship with none other than J.D. Salinger.
So, here's something I'm ashamed to admit.  I've read A LOT of books.  I read probably 40 books a year.  I took countless literature courses in high school and college.  I have never read Catcher in the Rye.
I'm going to change that starting this weekend.
7.  The Post-Gazette's Bill Toland is a swell guy.  I can say that because I've met him in real life.  And he was swell.  He's shaving his thick hair off for St. Baldrick's day too, so if you haven't yet donated to the cause, you can go to his page and do that.  He's got a ways to go toward his $3,000 goal.  IT'S FOR SICK KIDS!
8.  Reader Tico found former KDKA news hottie Sonni Abatta's doppleganger, Olympian Tanith Belbin.
HELL of a resemblance, I think.
9.  Finally, let's have a look at some Facebook groups you can join!
Somewhere, Jeff Reed's ears just perked up all, "Did someone say suck and blow?"
Gosh, I've been picking on Skippy a lot over these last two days.  I'm going to be nice to him for the rest of this week.