As you know, despite the Buccos of Suckitude's ability to stuff more suck into one baseball season than seems humanly possible — the clown car of baseball suck, if you will, I still believe every year is the year that they will finally play at or better than .500 ball.
Every year Burgh Baby laughs grimly at my sad Pollyanna hopefulness and counts down the days until I angrily kablooey the bandwagon and vow never to care about baseball again.
This year is no exception.  I've already professed my optimism for this season.  I've rebuilt this here rickety bandwagon and I'm racing this thing up and down the streets of Pittsburgh recruiting other Pollyannas to join me in believing that THIS IS FINALLY THE FRICKIN' YEAR.
Burgh Baby has already done that thing she does:
Hell, even my future best friend David Conrad wrote, when I asked him if he was on my side of this Will They or Won't They argument:
Getting excited about the Pirates maybe playing .500 ball is like getting excited that Stalin is only gonna jail your neighbors.
HE INVOKED THE NAME OF STALIN, that's how much he is NOT on my bandwagon.  In fact, I'm pretty sure if he saw my bandwagon heading his way, he'd try to throw down spike strips to disable my wheels.  I love David, but not enough to give up my rose-colored Pollyanna Sunglasses of Deranged Baseball Optimism.
Last week, Burgh Baby approached me with the idea of a baseball blog contest for our respective charities, mine being Make Room for Kids and hers being Christmas Crazy for Kids, which provides Christmas gifts to needy children in Pittsburgh.
Just like that, Make Room for Crazy was born.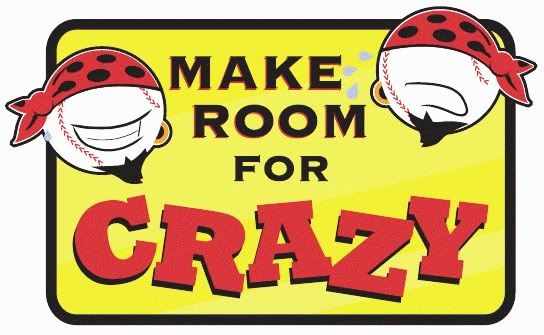 The idea is this.  If you're so motivated, you are going to pick a side.  My side is the THIS IS THE YEAR! side and her side is the THIS IS NOT THE YEAR! side.  The donation to choose a side is $5 and we will put all of the donations into the pot.  At the end of the season (or possibly sooner if they are statistically eliminated from reaching .500 ball), the winner's charity will get 75% of the pot and the loser's will get the remaining 25%.
But that's not all, she screeches in her best Billy Mays voice, if you enter your $5 for the winning side of this equation, your name will be entered into a random drawing for lots of awesome prizes like gift cards and other things that Burgh Baby and I will acquire for free using our very awesome powers of persuasion and possibly The Force, Jedi Mind Tricks, and Vulcan Mind Melds.  I'm going to bug some local sporty dudes for autographed items, too.  We'll keep you posted as we accumulate prizes for the drawing.
Please only pick ONE side, but once you pick that side, you can enter as many times as you'd like.  So if you'd like to make a $20 donation, go ahead and do that via four entries into the contest. Yes, I just did math.  Be impressed.
The reason I'm making you pick a side instead of just donating to both sides is because, come on, GROW SOME COJONES AND PICK A SIDE!  You are either on my side or on her side.  You don't get to be Switzerland.
And if you pick her side, may a pigeon peck out your eyeballs, your eardrums and your tongue out so that I'll know you by the deaf blind mute that you become.
I kid.  I completely get that I'm on the risky side of this contest.  But remember, kids:  They can't lose forever and my bandwagon has margaritas, burritos, hot babes, shirtless football players, playful puppies, a billion dollars in cash on board, and we don't brake for pigeons.
PICK A SIDE and click to be whisked away to the proper PayPal page:
The artwork for Make Room for Crazy comes to our courtesy of the talented Rachel Sager.