Monthly Archives: April 2010
In Pittsburgh today, Santonio Holmes was either, according to early reports, escorted from a flight because of "disruptive behavior" or, according to recent reports, simply met at the gate by Allegheny County police upon arrival at Pittsburgh International Airport and reminded by them that he has to turn his iPod off when the flight attendants tell him to.
Either way, I gotta say, it is not that hard to get through an entire life, in fact a long life, without being met at the gate by police upon your arrival at an airport and having an incident report filed about it. There's a trick to it though and I'm going to share that with you: DO WHAT YOU'RE TOLD, WHEN YOU'RE TOLD TO DO IT.
Let's go, PENS!
Warning
: Use of undefined constant php - assumed 'php' (this will throw an Error in a future version of PHP) in
/nfs/c05/h01/mnt/75660/domains/thatschurch.com/html/wp-content/themes/thatschurch2012/archive.php
on line
46
So, yesterday. BIG DAY for Make Room for Kids.
I arrived at Children's at 9:30 a.m. to meet up with Jenn Strang from IKEA who came bearing the carts, and to wait for the rest of the crew who were due to arrive at 9:45.
At exactly 9:45 a.m., and I do mean exactly, and I asked and they swore they didn't wait up the block, Microsoft pulled into the main entrance circle at Children's with a caravan of SUVs where eight employees, grinning from ear-to-ear, hopped out and got to work unloading carts and carts of equipment and gifts for the kids.
That's Luke Sossi there in the green. If you ever see him on the street, you should grab him and hug him because this man is an angel on Earth. Don't worry. I'll bail you out.
We then headed up to the seventh floor playroom where Microsoft stacked up the XBOXs to prepare them for installation in the rooms and to give us a chance to take a few pictures of such a wonderful display of generosity.
That's Nancy Angus from the Mario Lemieux Foundation there on the right. She was a huge help in not only working with Microsoft and the hospital to make this happen, but also in sort of being the official voice for Make Room for Kids yesterday. She'll continue to be a huge help as we roll out Phase II in the coming weeks, which means another trip for me and Mike to the Mario Lemieux Foundation offices, which hopefully means an opportunity for me to steal some Mario-autographed stuff off the walls.
Microsoft also came armed with a giant box of kid-friendly movies:
As well as an entire Rock Band set up, including guitars, microphones and drums.  Here's Mike going nuts on the drums:
Immediately after that picture was taken, he bit the head off of a bat.  True story.
The kiosks are fantastic and super easy to wheel around.
In the background there is David Severino, the Microsoft XBOX guru. You guys, HE WAS WEARING X-BOX SNEAKERS! Love.
My inspiration, nine-year-old leukemia patient Genre Baker and his mother came and we put him to work putting stickers on all the games and movies.
And here's where I cried a little, because two minutes before this picture was snapped I was telling Genre how he inspired everything he was seeing happening and so, yeah, tears from me:
I was just so glad he got to come and witness the good that came out of his fight against leukemia, which is a fight he is completely winning.  When I saw him a couple months ago, he had practically no hair and was wearing a surgical mask at church. Then when I saw him just a month ago, he had shed the mask and his hair was growing.  Yesterday, his mother told me he had just had to get a haircut and that his latest blood work was fantastic! I expect a tap-out from leukemia real soon.
After we took pictures, it was installation time. Have you ever tapped an ant hill with your foot and suddenly, the ants are all, "FIRE FIRE FIRE!!!" and hurriedly scatter every which direction? That's basically what happened. Luke gave the signal and the Microsoft employees and Mike grabbed XBOXs, which were already labeled for each room, grabbed extra controllers, grabbed cables, fanned out and got to work, installing 23 XBOXs in under two hours. There was one room they couldn't install, simply due to the health of the child. So, keep that kiddo in your thoughts and prayers that he or she will be well enough to use the XBOX soon.
I had a chance to talk to a few of the kids, which I loved.  They're so strong. Really strong. Way stronger than me.
In one of the rooms, the mother of an infant transplant patient requested games for the newly installed XBOX so that she could pass some time, which is something I hadn't even considered — that parents of smaller children might get some use out of "big-kid" games. That thrilled us all.
Here's a little video that Children's put together.  You'll get to see Microsoft at work and you'll hear from one of the patients.  You'll notice I don't talk in this video and that's because I was very adamant that yesterday be about you guys and about Microsoft and about the kids. Not me. And I know I'm sounding like a broken record about that, but better it be that record than say, Whitney Houston's "I Will Always Love You," of which my tennis coach once said, "When does she come up for air?"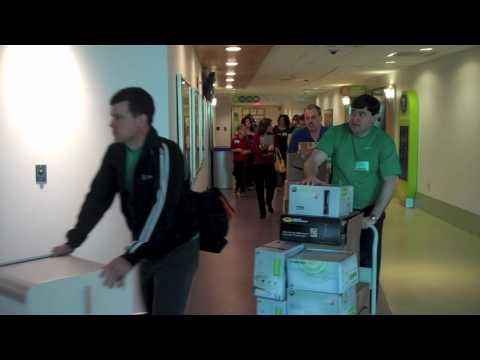 Warning
: Use of undefined constant php - assumed 'php' (this will throw an Error in a future version of PHP) in
/nfs/c05/h01/mnt/75660/domains/thatschurch.com/html/wp-content/themes/thatschurch2012/archive.php
on line
46
What a day! So much to share with you guys about our little visit to Children's Hospital this morning. While I'm gathering all the pictures and getting a post about that ready, you can go read my column about learning to curl with The Pittsburgh Curling Club.
Not only will you get to read sentences like this:
The first time I fell, I was sliding so slowly it wasn't so much of a fall as it was a gentle giving out of the legs. I smiled. Small setback. Every Olympian has setbacks. Look at Dan Jansen.
To this:
The fourth time I fell, my husband was snapping iPhone pictures of me rolling around on the ice like a seal and then posting them immediately to his Facebook account with captions such as, "Ur doing it wrong." I questioned my decision to bring him along.
If you scroll down, you'll also get to see tons of pictures like this:
But the pièce de résistance (literally "piece of resistance," I believe) would be the awesome little video filmed and edited by Alex Wander.
Highlights: The look on my face at the 40 second mark, the falling that begins at the 1:12 mark, and the "HAHA GINNY SUCKS" music that kicks in at the 1:30 mark.
Click the link and try not to spew too much pop on your keyboard.
I just want you to know, I WAS REALLY TRYING.
Warning
: Use of undefined constant php - assumed 'php' (this will throw an Error in a future version of PHP) in
/nfs/c05/h01/mnt/75660/domains/thatschurch.com/html/wp-content/themes/thatschurch2012/archive.php
on line
46
After a week-long stretch through hell in which they lost, and I'm going to estimate because I can't bring myself to go find the actual numbers, seven games in a row by a run differential of about what? 80?, the Pirates managed to beat the Milwaukee Brewers at Miller Park for the first time in THREE YEARS.
Something like 22 games since they've won at Miller Park, and yesterday, they managed to break the curse with a score of 7-3, which is fantastic because it means we can continue to report Buccos scores in football terms. While the past several games they've lost by three touchdowns each, this time, their touchdown beat a field goal!
The Buccos are taking us to the highest of highs, leading the bandwagon up to the stars where we see heaven and angels and hear pigeons getting their wings ripped off, and then the Buccos set off a shoe bomb in first class and nose dive us so far down to the bowels of hell that we can smell Satan's farts, and then back up to the clouds again.
If this bandwagon roller coaster ride doesn't level off soon, I'm going to puke.
And since I'm driving, those of you in the back might want to, I don't know, duck.
Warning
: Use of undefined constant php - assumed 'php' (this will throw an Error in a future version of PHP) in
/nfs/c05/h01/mnt/75660/domains/thatschurch.com/html/wp-content/themes/thatschurch2012/archive.php
on line
46
I thought you guys might be interested in a snippet from this media advisory released by Children's Hospital of Pittsburgh:
Children's Hospital Transplant Unit Gets Multimedia Makeover Thanks to "Make Room for Kids" Project
WHAT: The transplant unit at Children's Hospital of Pittsburgh of UPMC is getting a multimedia makeover thanks to Make Room for Kids, a social media-driven fundraising project, and local Microsoft employees.

Working with the Mario Lemieux Foundation, the group partnered to raise money and donations to outfit the transplant unit with gaming and laptops. On Thursday, April 29, they will deliver 24 Xbox consoles, two Xbox kiosks, extra controllers and dozens of games to the hospital's transplant unit. Each patient room on the transplant unit will be outfitted so that all patients have access to gaming and computers during their hospitalizations.

Make Room for Kids chose the transplant unit for their multimedia project because patients on that are unit often in isolation due to their compromised immune systems. Their average length of stay is nearly five weeks.

Make Room for Kids was started by Ginny Montanez of the popular Pittsburgh blog That's Church, who encouraged her readers to donate. In a week, they raised more than $15,000 for the patients at Children's Hospital.

Local Microsoft employees, including Luke Sossi, heard about the effort and donated the Xbox consoles, controllers, games, etc. on their own. The money raised will be used to buy laptops and other items that will be delivered at a later date.
So yeah, TOMORROW IS THE DAY! We'll wrap up Phase I, which is get the XBOXs into the rooms.  The staff at Children's has been hard at work for two weeks getting every transplant room ready for an XBOX.
Thanks to Microsoft employees who will be on hand and who have been working on this for weeks, we're going to actually install every XBOX tomorrow. Not just going to drop some boxes off and leave. We'll be going into each room on the transplant floor and giving those kids some gaming. Well, Microsoft and Mike will be. I'll be standing behind them, taking pictures and cheering them on, on your behalf.
The games, extra controllers, and forthcoming laptops, handhelds, and yes, iPads!, will be kept secure in awesome rolling/locking carts being donated by IKEA Pittsburgh.
Once this Phase I is wrapped up tomorrow, Mike and I will work with the Mario Lemieux Foundation staff to purchase the remaining needed items and to leave a pool of your money in the fund for upkeep/maintenance of the donated equipment and also to replenish game and movie stock, leaving the transplant floor in pretty good shape.
I'll get lots of pictures and video and stuff and I'll post them tomorrow afternoon so you can see for yourself how our little project is progressing.
And I'm going to try very very very very … VERY hard not to cry tomorrow.
Wish me luck with that.
Warning
: Use of undefined constant php - assumed 'php' (this will throw an Error in a future version of PHP) in
/nfs/c05/h01/mnt/75660/domains/thatschurch.com/html/wp-content/themes/thatschurch2012/archive.php
on line
46