1.  Oh, boy, has that IKEA post created some major major problems in my life, because whereas before I had a list in my head of stuff I wanted from IKEA, now I have a PRINTABLE LIST OF STUFF I NEED!
I mean, look how many people are going on about Billy Bookcases and Expedit something or other and I WANT I WANT I WANT.  So I called my husband.
Hubby: "What's up?"

Me: "Yeah, I'm going to need about a million dollars."

Hubby: "Cute."

Me: "No, I'm completely serious."

Hubby: "[click]"
2.  Another conversation, this one with my mother who is visiting my sister Tina Fey in Texas.
Me: "What are you guys up to?"

Mom: "I'm watching the baby while D is at school, and your father and sister are outside cleaning the inside of her SUV."

Me: "Learned my lesson, did she?"

Mom: "Oh, yes.  You never know who you might have in your car one day."
I'm glad people are learning from my stupid butt.
3.  Yes, I am going to write a Benny post today.  As soon as I get my taxes done and dry my tears over how large of checks I have to send out.
4.  Here's an awesome commercial featuring a pigeon.  If I'm calling a commercial featuring a pigeon awesome, then you already know how it ends.
(h/t Mel)
5.  Some local teens are in the running to win the Driving Skills for Life contest from Ford for a music video they created.  Go vote PITTSBURGH! No registration, just one little click.
(h/t Erica and Dave)
6.  Plum High School students made a seriously awesome video saluting the Pittsburgh Penguins.  You've probably seen it featured in the Trib or perhaps on the Pensblog, but if you haven't, here it is.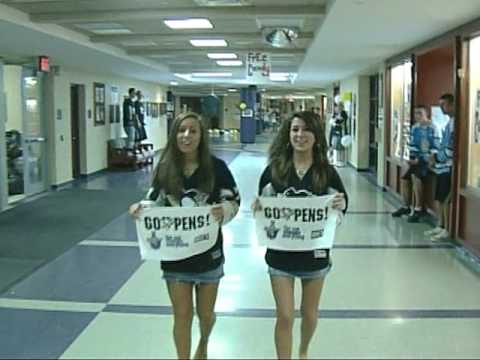 Then go read the comments on YouTube and ask yourself, why are some people being so ridiculously mean?
I'm going with, "Because they have tiny brains and shitty lives."
And can I just say? When I was in high school, it was FILLED with awkward teenagers.  What the hell has happened to the awkward teenager?!  Have they gone extinct?!  Did I miss an asteroid that took 'em all out?!
(h/t to a whole big bunch of people)
7.  Stephen Spielberg and Michael Bay will be filming a Dreamworks production of a big-budget action flick called "I am Number 4" here in the new Hollywood, AKA Pittsburgh.
The Pittsburgh Business Times has lots of details.
(h/t Charles)
8.  LISTEN TO ME.  CALM DOWN.  THIS IS STILL THE YEAR.
That is all.
9.  There are so many things wrong with this Craigslist What the Effie, where to begin?
Let's start with the title of "2 pigeons looking for a great pet home (Will come to you!)."
They left off, "Will come to you while you are sleeping and creepily watch you sleep before they decide to peck your tongue out."
Jupiter is a DNA sexed male Hindi fantail who came to us when his previous owner could not keep him any longer
Translation: The previous owner realized he had taken tongue-pecking vermin as a pet.
He arrived with a mate, who died from eggbinding.
Is eggbinding a form of pigeon torture?  I've been seeking a new method.
Flash is a female barred/checkered homer cross, she has not been DNA'd but behaviorally speaking we feel certain she is a female
Translation: Behaviorally, this pigeon is a raging bitch who always thinks her butt looks fat and she's got the crazy eyes, so we're guessing female.
Though these two are not going to be typical "pets," for handling and playing with, we will only place them AS pets.
Translation: We will not sell them to PittGirl for sacrificial or eggbinding purposes.
Bummer.
(h/t Rachael)