Update: The player in question is Zach Duke as confirmed by Rocco DeMaro.
I don't need to tell you, do I, how awesome this week was for our Buccos of Suckitude.
This weekend, they swept the Cincinnati Reds by beating them 4-3 on Friday, 5-4 on Saturday, and 5-3 yesterday.
Saturday's game was so intense, my tweets were a bit spastic.  I guess I should say, "My tweets were more spastic than usual." Read them from the bottom up, to get an idea.
In the bottom of the ninth inning, an inning that easily could have gone either way, Garret F. Jones was at the plate with two outs, bases loaded, a tie score and a full-count when he hit what probably would have been a double, but more importantly was enough to bring in the winning run.
The celebration on the field was ecstatic and rivaled the one I had by myself in my living room in which I jumped up and down and hooted and hollered to no one in particular, "BOOYAH, BURGHBABY!  BOO to the YA!"
It just so happens that I wasn't the only one who looked ridiculous celebrating the win.  As GFJ rounded first base and was mobbed by his teammates, one teammate, who I STILL haven't identified, well, he MISSED is what he did. He just missed.
I recorded it in slow motion for you and if you're wondering, the tune is "Air" by Bach.  I thought it fitting.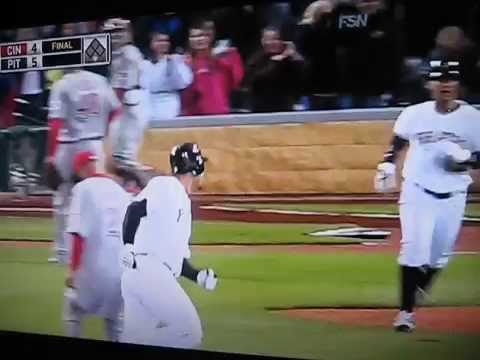 I bet that guy sucks at keeping his eye on the ball.
Regardless, the Pirates are in second place, one game out of first, and are playing .583 ball.
THIS IS THE YEAR!