1. I am trying to get back into the swing of things here in the Burgh since my return from vacation and this week is madness. MADNESS I TELL YOU. I have one child starting school, one toddler to prepare for preschool, the Tassy event at the Priory, opening night of the Phantom of the Opera, Genre's Kids With Cancer Fund Footsteps in Faith Run That I Will Walk, and then a wedding.
Add to that dentist appointments, vet appointments, blogging, column writing, and next week I'm drilling with a local fire station and THIS IS ME AS A HEADLESS CHICKEN.
Bawk.
Or is it bock?
2. So my sister Tina Fey, a huge health nut, convinced me while on vacation that high fructose corn syrup is deviljuice and since my return home, I'm trying to rid my house of the stuff. Not. Easy!
My God, they'll sneak that shit into anything, won't they?

3. Lots of you emailed me this picture of Daniel Sepulveda with Taylor Lautner, I think because they figured it would be double hotness for me.
But I just don't find 18-year-old boys attractive.
However, judging from the incoming searches from Google that land on my site, there are droves of girls, teens, and moms stalking him and trying to find out where he's sleeping here in Pittsburgh while filming. I hope that boy sleeps with one eye open … and his blankie BECAUSE HE IS A CHILD, LADIES.
4. Your chance to be a permanent part of the Mario Mosaic at the new Consol Energy Center is coming to a close.
Until August 31, you can submit a photo of you, your family, your pets, or maybe your self-united husbands to the Mario Lemieux Foundation and for a fee of $66 dollars your photo will be joined with other photos to make one giant picture of Mario Lemiuex.
A permanent tribute to the President of Pittsburgh, as I call him.
That makes Nathalie the First Lady, Nancy Angus his Chief of Staff, and me the girl hauled away by the secret service for suspicious, fervent, and ceaseless stalking.
Anyway, you can go here to submit your picture. First come, first serve, because once the spots are filled, you've lost your chance to be a part of the Mario magic. All proceeds will benefit the foundation.
Plus, if you ever meet Mario Lemieux, instead of being like me all, "[giggle] [swoon] XBOX hockey marry me [blubber] [giggle]," you'll actually have a conversation starter! "Mario! My man! I am part of the Mario Mosaic!"
I bet he'll buy you dinner after that.
Invite me.
5. In Spain, they have too many pigeons.
I would like to stop a moment and tell you that ONE PIGEON IS TOO MANY PIGEONS.
Carrying on, in Spain, they have too many pigeons and this is how they're dealing: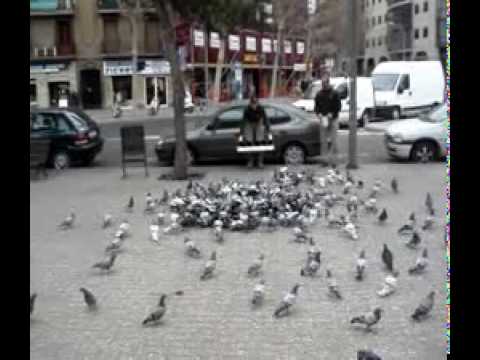 Catapulting nets at flocks of the suckers, thus creating the creepiest video ever.
I may never sleep again.
(h/t Luke, Cadi, Ian, Tracy, Ken and anyone else I missed)
6. LOVE THIS.
My mother brought over my childhood Little Orphan Annie doll and my Cabbage Patch doll for my daughter.
She was all, "Where's the on switch? Does she talk? Does she pee? Does she poop? Will she teach me spelling?"
Kids these days.
(h/t Will)
7. Next Three Days, the movie that Russell Crowe filmed here in Pittsburgh, has a trailer. FILLED TO THE TOP with Pittsburgh goodness.
I love it when movies filmed here actually look like movies filmed here.
Go, Pittsburgh. See what you can spot in the trailer.