Look out your window. Here in Pittsburgh, it's sunny and yes, HOT, and the sky is blue and the air is still fresh from yesterday's storms.
I don't know about your kids, but my kids are at school, running around with their friends, learning stuff, having recess, trading Silly Bandz, then maybe coming home, riding their bikes for a while, getting boo-boos on their knees, followed by Band-Aids and all-better-now kisses. Maybe we'll take them to the park. Maybe out for an ice cream cone.
Do you have any idea how easy it is to take that for granted? Doing those simple things with your children or your nieces and nephews or even grandchildren?
So easy. I take it for granted all the time, despite my best efforts not to. Today is one of those days I'm not taking it for granted because I received this picture from DVE's Randy Baumann in my email.
I knew I know that boy from somewhere, and I'll get to that in a second.
That picture is from 2009 and Randy wrote to me yesterday about how today begins the DVE Radiothon benefiting Children's Hospital of Pittsburgh:
Here's a picture of me and my buddy Ben that I met at last year's Radiothon. He spent years in Children's after having a full intestinal transplant performed, and is now, finally, on the road to a more normal life. It's only through the donations to Children's Hospital that the level of care is maintained that allows these kids to get better, quicker, and maintain a level of health when they leave that is simply not possible elsewhere. Parents and siblings of the kids are able to be apart of the healing process at Children's in Pittsburgh, in fact- they are included, which is an immeasurable weapon in the fight to become well again.

We are proud of the Steelers and Penguins and the display of civic pride here in Pittsburgh that is like nowhere else. Nothing could be a bigger point of pride for Pittsburghers than what is happening at Children's Hospital right in Lawrenceville. Hoping your readers will take time to donate as little or as much as they can. Even a $5 donation matters; there's strength in numbers, and your readers add up to quite a big number.
But, see, Randy is not telling the whole story here, and screw it, I'm telling it because he's an Awesome Burgher who deserves the pat on the back.
Randy didn't just meet Ben one time for a picture and then walk away forever. Randy went and visited Ben many times after he met him in 2009 and I know this because Ben told me when I chatted with him as Microsoft installed the XBOX in his room this year.
You can see me chatting with Ben at :58 in this video: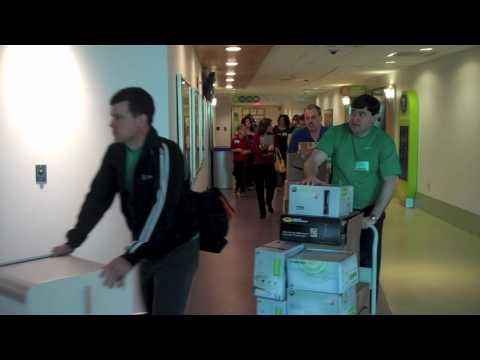 Ben told me Randy came to visit him a number of times and that he and Randy are friends. Ben told me he would listen to Randy's show in the morning when he could. Ben told me he's a Seahawks fan. I forgave him.
Ben was so weak when I talked to him that he fell asleep as I was in the middle of a sentence. God, I hope it's just not that I'm THAT boring.
I was told that sometimes staff would walk by Ben's room and there would be Randy chatting quietly with him.
Gosh. My heart could just burst. KABLOOEY.
I'm so glad to hear he's recovering now.
So, let's support Randy and Jim and 'DVE and Ben and all the kids who are not running around at recess right now getting boo-boos on their knees, but instead are watching the world from their hospital windows wondering when they'll get a chance to just need a Band-Aid and an all-better-now kiss.
Thanks, Burghers! You're the best!
You can call 412-692-8900 or click here to donate any amount small or large.
If you donate, tell me, and I'll give you a virtual hug so hard, your heart will burst too.