Dan Onorato, current chief executive of Allegheny County and candidate for governor of Pennsylvania, has a new commercial out and in it, he is sure to tell us how to pronounce his name, because apparently, his name is hard to pronounce.
Really?
This is how I pronounce it. On-or-ought-o.
Is that not right? I am putting the emphasis on the "On" and then the "ought." Is that not right?
Let's go to the video to see: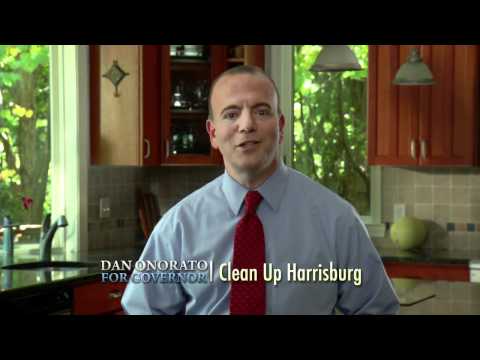 Thoughts:
1. I love it that he awkwardly segues from big government and term limits IMMEDIATELY into, "Some of you have a hard time pronouncing my last name."
Who wrote this? I hope his next commercial says, "My opponent's plan will cripple the economy of Pennsylvania, and some of you might not know that I volunteer at the food bank."
2. Then when he is teaching us how to pronounce his name, he inexplicably holds up a card printed on which is … his name. Not the phonetic spelling of his name. Just his name. And he holds up this card with his name after his name has already been shown on the video three times including a bum-bum-bum syllable by syllable appearance of it.
It's almost comical watching him hold that card up so enthusiastically, like he's scoring a mambo on Dancing with the Stars.
3. Now, two different readers have informed me that at the end, the announcer mispronounces "Onorato." I can't really tell. What do you think?
I love the beta closed captioning available on some YouTube videos and I activated it on this one to see what YouTube thought of the pronunciation of his name:
So yes, he IS mispronouncing it.
It's not "Been On A Runoff," Mr. Announcer; it's "And On Arrival."
So glad we cleared this up.