I don't even know where to start.
I guess from the RIP room, the eerily decorated room that lies on the second floor of the ScareHouse. That's where we gathered, among the shelves lined with scary weirdness that I can't describe because how do you describe a mask with two sets of dead eyes looking down at you from above? The room was filled with delicious food and wine and two secret scarers, who most people guessed would be Mikey and Big Bob from 96.1.
This is my sexy "I feel a strange evil presence lurking over my shoulder" face. Hawt. [Wink]. All photos courtesy Jonathan Wander.
That monster evidently wanted to french everyone. Deeply.
Who were the monsters?
Mikey and Tall Cathy! When the guesses were in, Tall Cathy was most-often mistaken for Big Bob or Jim Lokay. They were great sports, walking the room and just making a general nuisance of themselves, which is exactly what we wanted them to do. At one point, I saw Mikey doing a Michael Jackson dance while wearing that getup. It was strangely hot.
I should mention I had wine. Because my husband kept handing me cups of wine. WINE! YAY!
Now, the loser was supposed to be announced at 8:00 p.m., but instead what happened was at 8:15 p.m. Scott Simmons stood up and told the crowd, "We will reveal the winner … [Ryan Seacrest Pause] … [Nick Cannon Pause] … [Pregnant Pause] … after these messages."
Actually he said, "In 15 more minutes."
And I said, "NO! JUST TELL ME I LOST. I CAN'T TAKE THE WAITING ANYMORE. THIS IS LIKE WAITING FOR MY EXECUTION. JUST TELL ME FOR THE LOVE OF GOD."
I should mention I had two wines.
Finally, at 8:30, a gorgeous blue princess dress complete with hoops and a bosom-baring neckline was wheeled into the RIP room and I looked at Michelle and she said, "[gulp.]"
And I said, "SCARED NOW, AREN'T YA?!"
But then Scott announced, "It was close, but Ginny's walking the ScareHouse alone."
This was the point when Rob from WPXI put a camera, a light, and a microphone in my face and said, "You've just lost. Where are you going now?"
And instead of saying, "I'm GOING TO DISNEY WORLD! WHOO!" I shoved that microphone away and said, "SHUT YOUR WHORE MOUTH."
No I didn't. I shoved the microphone away and it magically appeared back in front of my face. "Where are you going now?!" Rob persisted.
"I'm going through the ScareHouse alone."
But then a weird thing happened. A magical thing. Scott suggested that perhaps Michelle could be bribed to put on the dress despite the fact that she won. After all, it's for the children, amiright?
I don't know if you've ever heard the sound of dozens and dozens of wallets being emptied, but it's a beautiful swishing, fishing, flipping kind of sound. Money was passed through the crowd and on to Scott who counted up $160 additional dollars to be donated to the children if Michelle got into the princess dress.
And I said, "THINK OF THE CHILDREN!"
And Michelle said, "SHUT YOUR WHORE MOUTH."
No she didn't. She sighed heavily, said some ridiculous nonsense about there not being enough double-sided tape in the world to do what needed to be done boob-wise, and then headed to the dressing area to get made up, dressed, lifted and separated.
Boobs are fun.
Also, I'd had wine.
After Michelle disappeared, I was presented with a wireless microphone. Because it wasn't enough that everyone in the RIP room was going to be able to watch me scream my head off via the cameras all through the haunt, they would now be able to hear every shriek, scream, "Oh. Shit!" and "WHERE IS OUT!? WHERE IS OUT!? WHERE IS OUT?!"
Not. Awesome.
As soon as the mic was in place I thought to myself, "This would be a good time to pee. So as you don't fright-pee mid-haunt."
I headed to the bathroom, was halfway in the door when I said to myself, "This would be a good time to remove your microphone. So as you don't broadcast your pee stream, wipe, zipper, hands wash, and mirror-speech, 'You can do this. You're brave enough. You're strong enough. People apparently hate you because they're making you do this, but YOU CAN DO THIS, self! [pew pew]' to the entire RIP room, causing yourself such embarrassment that you are forced to move to Mexico until the shame dies down."
I'd had wine, you remember.
Thank God I caught that, because, seriously. Me. Mexico. Donde estan mis pantalones, Senor?
Wine.
Time to enter the haunt. You've seen what I was like getting ready to go in. You've seen what I was like once in there.
It was … horrifying.
To enter a dark space, a spooky space filled with walls and tables and mirrors and spooky noises and to know that at some point, around every corner, someone or some thing or some animal was going to jump out at you, scream at you, possibly demon-possess you, is beyond nerve-wracking.
My 21-step strategy was this, in case you want to employ it when you go through the ScareHouse yourself:
1. Move fast.
2. Shield your face at all times by using your open hands to form a wall between your peripheral vision and whatever side you think the next scary thing is going to appear on.
3. Don't end your sentences in prepositions. That's just tacky.
4. Attempt to walk with your eyes closed.
5. That's not working. OPEN YOUR EYES. SQUINT AT THE VERY LEAST.
6. MOVE FASTER.
7. GO BACK AND GET THE SHOE YOU LOST, YOU STUPID SCAREDY BITCH.
8. Do not turn a corner without first looking to see if there is someone or some thing or some animal waiting for you around that corner.
9. Even if they get right in your face, do not make eye contact with anything with eyes because that invites the devil into your soul.
10. Remember, screaming only encourages The Others. Try not to scream.
11. God. You suck at not screaming.
12. Anything stringy-haired that talks in a baby doll's voice, you cover your ears and chant, "DON'T TOUCH ME. DON'T TOUCH ME." and pray it doesn't follow you while singing a creepy as hell song.
13. MOVE FASTER! THE BUNNY IS FOLLOWING YOU! IT HAS AN AXE AND DEAD DEAD EYES.
14. I THOUGHT I TOLD YOU NOT TO MAKE EYE CONTACT! DO YOU FEEL THE BUNNY-DEVIL IN YOUR SOUL NOW?!
15. Don't trust pigs that hang upside down.
16. Don't trust chairs. Stupid scary chairs.
17. WEAR MORE SENSIBLE SHOES, YOU DAFT BITCH.
WHAT THE HELL IS WRONG WITH YOU!? YOU'RE LIKE THE IDIOT GIRL IN EVERY HORROR MOVIE WHO FALLS WHILE BEING CHASED BY THE MONSTER. YOU DESERVE TO GET EATEN BY THE BUNNY-DEVIL.
18. Why does every single "person" in this haunt know your name? Why are they screaming it at you? Why are they saying it like this, "GINNNN-AAAAYYYYYYY. GINNNNN-AAAAYYYYYYYY." I bet that's how Satan pronounces your name. "GO ATTACK GINNNN-AAAAYYYYYY, MY PIGEONNNNS."
19. Did you just feel something in your hair?! WTF?! MOVE FASTER.
20. WALL! HARD WALL! OPEN YOUR DAMN EYES AND RUN!
21. Whew! You're done! You did it! Brave girl! Have a seat! Breathe it out! Whew!
Except I wasn't done. That was just the first haunt. I still had two more to go. Are you freaking kidding me?!
It was all a blur. A scary scary blur. I can't express how awful it was to walk across a room knowing there's about to be something screaming your name or even worse, saying, "Do you want to come out and play, GINNN-AYYYYYYYY?!"
Here's a video taken by "Uncle Crappy" that was taken in the RIP room that shows how I was basically a screaming blur. Moving as fast as I could.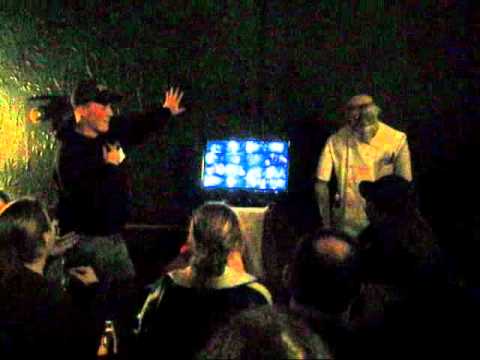 I made it through the haunt in half the time it takes most people and I did it wearing shoes that were actively trying to get me eaten, killed, bunny-devil-hopped, or worse, asked to come out and play.
Also, I'd had wine.
And guess what? I went through the haunt a second time because I'd had wine and because Michelle asked me to go with her and anyone that does this despite the fact that she was technically the "winner," well, her wish was my command.
She did it for the kids.
And that's why I love the crazy bitch.
Also, new shirt idea: "I followed Ginny's 21-step ScareHouse Coping Plan and All I Got Were These Pee-Soaked Pants."
Make it happen.