1. I have in my possession, a mind-blowingly hilarious video taken by my brother-in-law, of my sister Pens Fan freaking out about a spider to the point she pees her pants a little bit.
I am forbidden from sharing it.
Sad panda.
2. I have in my possession the great desire to risk her wrath.
She's 105 lbs.
I'm … more.
3. I have in my possession, this black and gold scarf knitted for me by the Knitting Lady, Michelle, which she gave to me when I met her and her husband Mike for dinner:
She is a dear.
It is the softest, stretchiest scarf I've ever owned. Jealous?
I told her to open an Etsy shop.
She told me about the guy that sat next to her at the home opener last week and how he had a real problem with her knitting during the game.
I told her I hope she told him to go to hell.
4. Speaking of the Pens, they still haven't won a game at the Consol. Did someone hex the Mellon Arena ice water that Mario poured?
On the plus side, Engelland almost killed a guy.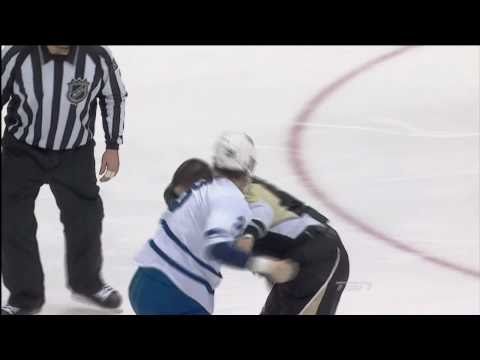 Not that it did any good as we still lost the game.
Sigh. Trade the Consol.
5. If you're near Oakmont this Saturday, Riverside Church's Girlfriends group is holding a Craft Show and Bake Sale open to the public.
I love craft shows. I love bake sales. I love sales selling both crafts and baked goods.
6. Chad Ochocinco has taken to raising and breeding pigeons.
First, he is raising pigeons. Typical.
Second, he thought his pigeon was going to give birth to two baby pigeons. Like a woman gives birth to a baby. Or a dolphin to a baby dolphin. Or a dog to a puppy. He thought she was going to push out two tiny balled up pigeon babies.
I wonder if he thinks horses lay eggs.
How awesome would it be if horses laid eggs?
I like the word pisstified.
(h/t Scott and a whole bunch of twitter friends)
7. Finally, remember Sadie? Of course you do. Dear sweet five-year-old girl with Cystic Fibrosis.
This Saturday is the awesome Brewing Up a Cure event by Three Rivers Underground Brewers to raise funds for the Cystic Fibrosis Foundation and it will feature lots of food, commercial and homemade beers, a live band, and an auction of a hand-crafted bar.
Sadie is the daughter of one of the members of the group.
Aw. I'm not going to go into the life expectancy thing. Too painful when you look at that picture. Life is just not fair sometimes.
If you want to support the cause and dear Sadie, you can find details and buy tickets here!