I'm kidding.
All I know is that Tom Brady exhibited some majorly bizarre behavior last night, so bizarre that my sister Pens Fan emailed me all, "I'm pretty sure Tom Brady is tweaked out on meth."
She wrote that after he had his screaming fit in which he stood in the center of his offensive team, shrieking his head off until the vein in his forehead was all  KABLOOEY and then ended it by screaming, "You got that?! You're all f–king assholes, too!"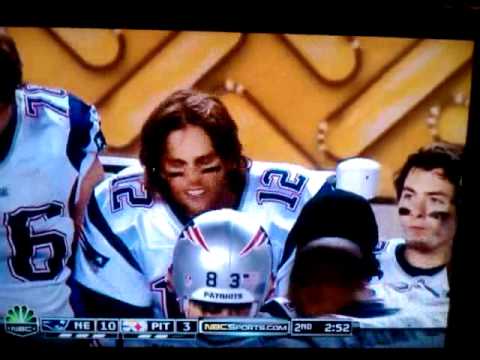 Seriously. That's what he said in his rage. For all his faults, and I'm not minimizing his faults, could you ever in a billion years imagine Benny screaming that at the team? Or any Steeler player screaming at the team like that while on the field?
I said to my husband, "Did you see that?! What a jerk that guy is. I hope the Karma Boomerang makes itself a home in his butt crack and gives him a raging infection that makes all of his stupid hair fall out." [rage issues. I have them.]
And my husband said, "Well, when you're the leader of the team blah blah blah [insert some nonsense here about motivating a team with vicious insults]."
I'm sorry. I don't consider screaming at your team that they're a bunch of f–king assholes as encouragement.
But just to be sure, the next time I'm at Target and the cart boy is struggling to get all the carts into the store, I'm going to shout. "YOU'RE DOING AN AWESOME JOB! KEEP IT UP, YOUNG FELLOW. ALSO, YOU'RE A GIANT F–KING ASSHOLE!"
Or the next time I hang out at a race, and the runners are going by, I'll scream, "YOU CAN DOOOO IIIIIT, YOU F–KING ASSHOLES!"
Or the next time I'm at my son's flag football game and the team is down by one touchdown, I'll scream, "LET'S DO THIS, YOU F–KING ASSHOLES!"
I'll let you know how it goes over.
Let's talk football and The Devil and Tom Brady.
1. This game started out bad and stayed bad in that no matter what the Steelers did, the Patriots had an answer for it.
We couldn't frustrate them the way they frustrated us.
We couldn't run. Our pass-defense was HIGH – wait for it – LARIOUS.
And our linebackers? I have never seen a quarterback with as much time to throw as Tom Brady had to throw the ball yesterday. Have you?
It was either their kickass O-Line or our dismal defense or a combination of both into the perfect storm of a ten-second empty pocket where Tom Brady had time to send a text to Gisele all, "Have u seen my hair? I am a beautiful man. LOL. XOXO. FINGERHEARTS.'
2. The frustrating thing for me was feeling like we were one amazing play away from a complete momentum shift. A Troysus interception returned for a touchdown. A breakout Mendenhall run for a touchdown. A punt return for a touchdown. SOMETHING FOR A TOUCHDOWN.
But it never happened.
3. We interrupt this WTRT to check in with the Ministry of Silly Walks.
The minister, apparently, is in.
4. We should talk about Benny. Benny did not play well for much of this game.
His throws were terrible, under, over, short, long.
It was too little too late to try to bring us back in the fourth quarter, especially when the Patriots had an answer for every good thing we finally did.
That said, I'd like to think that despite his horrible play, the fans tried to offer Benny some encouragement.
I see they did.
5. And where was Troysus? I am trying to recall one amazing thing or well, slightly memorable thing he did during this game and I got nothing. Not a fantastic tackle. Not a sack. Not an interception.
Do you suppose he had problems with Tom Brady's hair?
Although that picture makes it look like Troysus sacked Tom. Did I miss that?!
In my defense, I hope Tom Brady wakes up with a painful pimple the size of Afghanistan on his ass.
What? I don't know either.
6. Hines Ward got hurt early with a concussion, and that hurt us in the end zone I thought, because no one seems to catch those missiles to the back of the end zone, up high, toes inside the line like Hines Ward can.
It looked to me like Hines got knocked out for half a second there, right?
I might be wrong about that, but in my defense I hope Tom Brady takes a prescription-strength time-released laxative and can't undo his belt.
7. I guess we have to talk about Jeff Reed, don't we?
Jeff Reed, our franchise player, missed a 26-yard field goal and blamed the grass:
"I'm not one to make excuses," Reed began. "I'll take the credit for the miss. It was a great snap, a great hold, great protection. It's kind of hard when you plant your foot and the hole — a piece of ground moves where the ball's under the holder. I almost missed the ball completely.

"I'm not going to make excuses. If you've played any kind of sports in your life, you realize that what we play on is not very good turf. It happens."
We interrupt this WTRT for me to explain to Jeff Reed that he just DID make an excuse.
[angry screaming]
And we're back.
Reed's short miss came late in the third quarter with the Steelers behind 17-3. When he next kicked, an extra point following a touchdown early in the fourth quarter, fans in Heinz Field let out a loud, seemingly mock cheer.

Did he notice that reaction from the fans?

"I don't really know what you're talking about, but it doesn't surprise me. If you're not perfect in this city, man, then you're going to hear about it. It's been like that for nine years, and why would they stop now?

"Like I said there's 95 percent of those fans that got my back totally and then 5 percent you always hear. They're right by the kicking net, they were bashing me, but that's life, man, you got to move on.

"They started before the game even started. You know, like I said, they buy tickets just to bash me and Dan [Sepulveda] and Greg [Warren]. It's more me because points come off my foot."
We once again interrupt this WTRT, this time for me to explain to Jeff Reed that 95% of the fans in the stands and at home let out the mock cheer when he hit the extra point, and to explain to him that he has the lowest percentage again, and to explain to him that NO ONE IS BASHING DANIEL SEPULVEDA AND IF THEY ARE I WILL PERSONALLY HUNT THEM DOWN AND RIP THEIR THROATS OUT.
[angry screaming] [kick] "AND YOU'RE A F–CKING ASSHOLE, TOO!"
I'm so encouraging.
Also, I STILL don't know what a franchise player is, but in my defense I hope Tom Brady gets a corn husk stuck in his throat for a week.
There could be lots of reasons why Jeff Reed is so terrible this year as opposed to previous years. Perhaps he's too busy working on his career as an impressionist:
That's right. ESPN is reporting that the Steelers are considering cutting Jeff.
WHAT WILL WE DO WITHOUT OUR WEEKLY JOKES ABOUT SLUTS?!
Let's ask Benny.
I suppose, but it won't be the same.
8. Speaking of coaches, I'm pretty sure Bill Belichick, if he's not the devil, is actually Emperor Palpatine.
I wanted to put a picture of something hilarious here that Belichick could be Jedi-ing, but I gave up, because I'm sick of talking about this game.
But in my defense, I hope Tom Brady grows breasts with giant hairy nipples.