So, right up front, I need to tell you I turned this game off as soon as Byron Leftwich started taking snaps.
Come on. Bajillionty to three on a Sunday that I could be putting my husband to work around the house and you think I'm going to sit there on my sister's couch and watch what became a pre-season game?
Hell no.
Prior to this game, my husband basically said this to me. Actually, not "basically;" he said it verbatim:
"If we win, we're second seed. We lose, we could be sixth seed. [snap] Just like that."
So I said, "So this is an important game then? Would you say we need to FOCUS on this game?"
He said, "Yeah."
And I said, "No. I mean really say it. Say, 'We need to FOCUS on this game.'"
And he said, "[Spanish swear words]."
And I said, "English, motherbleeper. Do you speak it?"
God bless you if you know what movie I was paying homage to there.
Moving on. About ten seconds later, I was going to tweet something along the lines of the second/sixth mumbo jumbo my husband had said, and I asked him, "So, we win, we're two. We lose, we're six?"
And he said, "Well. If we lose and the Jets win and the Ravens win and the virgin is indeed thrown into the volcano before the fifth new moon of harvest …"
Or some other such nonsense.
The point is, for the easiest, most painless road to the championship, it was important we beat the Browns.
Ta-da.
Why do men have to be so damn complicated, asks the woman who can make her husband's brain explode with her complicated emotional bullshit?
Let's talk football.
1. Can we first of all not get too excited about this win?
People on twitter were all,"WE CANNOT BE BEATEN RIGHT NOW!"
"WE ARE PLAYING THE BEST WE HAVE EVER PLAYED!"
"THERE IS NOT A TEAM IN THE NFL THAT CAN BEAT THE STEELERS RIGHT NOW!"
"WE ARE THE CHAMPIONS OF THE WORLLLLLLLD!!!!!!"
It's the Browns, you guys. It's like Godzilla stepping on a ladybug and being all, "TAKE THAT, YOU POLKA DOTTED PIECE OF SHIT! I CANNOT BE DEFEATED! [lips continue moving]"
At least that's how I view the Browns.
2. We destroyed the Browns and I'm still terrified of Tom Brady. Have you noticed that with his ever-growing hair, Tom Brady is slowly morphing into his wife? That is some seriously spooky, effed up shit. He probably wears heels and pasties to bed by now.
3. As an aside, if the Browns beat us earlier this year and I have somehow erased it from my memory, please pretend number 1 said, "SUCK IT, YOU BROWN PIECES OF SHIT! WE CANNOT BE DEFEATED!"
4. The game was off to a quick start thanks to Troysus' interception. And we thank him for that. But what we REALLY want to talk about is another amazing Superman dive by Troysus who apparently has his own snap count angel because this dive is EYE-[clap!]-DENTICAL to another one earlier this season:
Troysus versus Colt McCoy:
And Troysus versus Kerry Collins in week 2: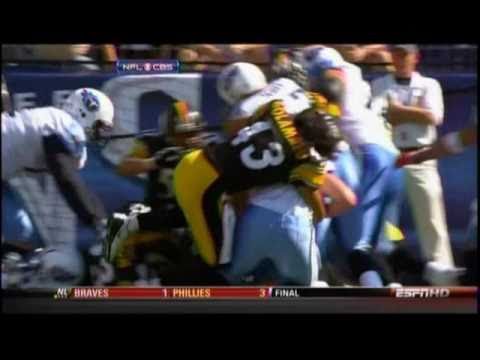 Having Troysus healthy for the playoffs is going to be game-changing for us. Mark my words.
5. Troysus' interception was followed by another long completion to Mike Wallace, who ran into the end zone into a sea of Steelers fans.
5. I got bored with the game by the third quarter, so I decided to kill some time by asking some of the players and coaches what their resolutions for the new year were.
6. I couldn't get an answer out of Colt McCoy.
Poor guy.
No, really. Poor guy. I actually started feeling sorry for the kid. Sack after sack. Hurry after hurry. Interception after interception.
7. Everyone did something. A sack. An interception. Heath had a touchdown. Benny wasn't sacked and didn't throw an interception. Randle-El used trickery to throw a touchdown pass. And as the points were racked up to the thirties and the Cleveland Browns began to realize how badly Godzilla planned to squish the polka dotted piece of shit, they pretended like they had no clue where they were or what they were doing. They checked out mentally and waited for the sweet release of the final whistle.
So by trampling the Browns, the Steelers win the division, relieving us of having to have the virgin volcano sacrifice/harvest moon/FOCK-YOUS discussion with my husband.
Believe me, you don't want to have that discussion.
We're off until January 15, at which time I shall become a rocking muttering ball of sweaty pasty nerves with the strong desire to vomit.
God I love football.