1. You know what sucks? After a half a winter spent eating in comfort because your restaurant had a fire and because it's cold outside, going to the doctor and being weighed  so that you know OFFICIALLY and to the tenth of a pound how much weight you gained since November, leaving you to say things to yourself like, "Is that kilograms?" and "It's been a rough winter." and "I don't get the metric system at all."
Know what else sucks? How much your hand smarts after bitch-slapping a scale in the doctor's office.
2.You'll notice the thermometer there is still not updating live. We ran into a technical issue with Donations Tracker and Mike is working with them and the Mario Lemieux Foundation to get it resolved.  From what I understand, it's a complex issue because the whosits aren't working and the whatsits quit on account of the monkeys. Or something. [shrug]
Regardless, Mike is updating the total manually for the time being.
Please click the donate button to donate! It's for sick kids who deserve a little levity in their days. You'll feel a wonderful sense of satisfaction and camaraderie when I post the install-day pictures because you'll be able to say, "I did that."
Also, for every ten dollars we raise, a unicorn poops a chocolate chip cookie dough ball.
Or something.
This is a weird post. My favorite kind.
3. Mikey and Big Bob are in Dallas for the Super Bowl and filed this video from the media room last night.
At one minute and nineteen seconds in, Mikey does something many of us have dreamed of doing.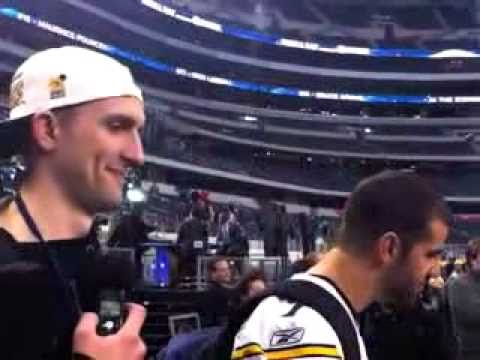 I asked Mikey what he smelled like, since Mikey looks so turned on by it, and Mikey said, "glitter, cookies, and clouds."
I KNEW IT!
But seriously, Mikey, step off.
3.  The Twerrible Towel is a website created by some Burghers who have ingeniously whipped up a contraption of whosits and whatsits to twirl a Terrible Towel each time someone tweets the hashtag #steelersnation or #steelernation.
It's hypnotizing and mesmerizing and fun to watch your name pop up.
I wonder if there's a monkey in there that they spank to make it twirl?
I have a scary good grasp on technology, n'at.
4. Say "twirl the Terrible Towel" ten times real fast.
You CAN'T CAN YOU?!
5. CBS Sports' Gregg Doyle writes about Pittsburgh and the Steelers:
The Steelers never fell. The crash never came. The 1970s came and went, but the bottom never fell out. The Steelers kept churning out 10-win seasons, almost never dropped below .500, then won two more Super Bowls. Here they are this week, playing for their seventh title — and their third in six years — and you have to marvel. Give credit where credit is due. And acknowledge this truth:

The Steelers have been as resilient as the city they call home.
That's church. Testify. Amen. Hallelujah. Spank a monkey and twirl that towel.
Weird post. I blame the doctor's scale.
(h/t Jen)
6. Randy Baumann wrote Fear the Beard: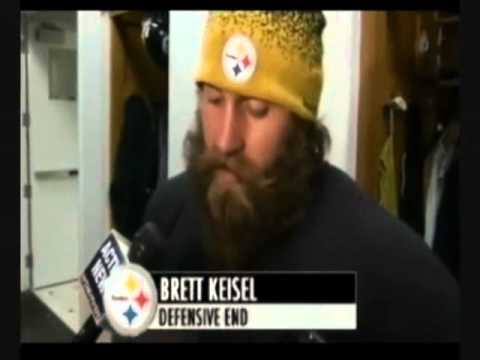 I fear the beard. Because I think monkeys might live in it.
(h/t Lynette)
7. My self-united husband Joe Manganiello has something he'd like to say to you:
I can't hear him either, but he sure is nice to look at, eh?
(h/t Pete)
8. Burghers, listen to me. We are at war with Green Bay residents and Packers fans and WE. MUST. WIN!
CHAAAAARGE!
Wait. For a second there I just imagined we were cresting a hill about to invade the enemy.
Seriously, be counted at Visit Pittsburgh's site as a Steelers fan and be entered to win a 2011 Steelers home opener package.
9. A sign sent to me by Tony from Darwinfish:
False advertising! It should say, "Feed a pigeon, get bitch-slapped by PittGirl. She got weighed today. It wasn't pretty."