Thanks to Mike and the Mario Lemieux Foundation, that thermometer there is updating live now, so you can see your donations inching the bar up.
If you've donated, thank you so much for your generosity, regardless of the amount you were able to give. Every little bit counts and means something to me and Mike and Chachi and the kids and the Mario Lemieux Foundation.
For those of you who haven't yet made the decision to donate, here's a little reminder of what takes place on install day. This year, we'll be delivering all the XBOXs at the same time we deliver the games, hand held gaming systems, laptops, iPads, etc.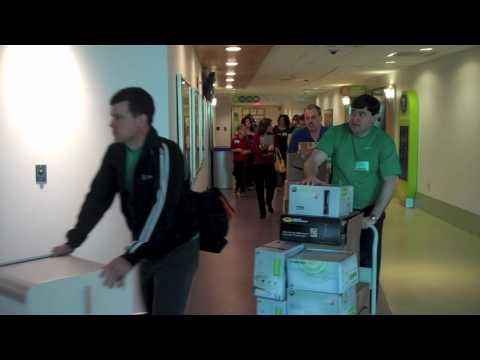 And here's a reminder about the boy who inspired the genesis of Make Room for Kids … Genre Baker of Genre's Kids With Cancer Fund. Genre's organization is worthy of donation dollars too and I'll be doing my best to raise money for him this year.
Sick kids, you guys. They deserve every good thing we can give them, you know?