Yesterday a tornado-generating cloud passed over my house and then pooped a tornado that touched down eight miles away.
Living in Texas for four years of college means I know what a tornado cloud looks like. It's really really black and low and if you look closely at it, you can see the faint outline of Mother Nature screaming her batshit crazy head off while shooting lightning bolts from her eyes. Also, the air is green.
I saw the cloud, noticed the air was the same color as my skin right before I puke, and ushered my family to the basement where we listened to hail pepper the house, and the wind shriek like it was exerting the force necessary to rip our roof off and hurl it away like a discus thrower going for the gold.
We were only in the basement for about five minutes and were relieved to discover that our house was fine.
But like I said, this was happening eight miles away. A video you've probably seen by now as it's going viral, starting with Mikey and Big Bob on twitter and going to DVE and now national news.
A Hempfield teenager stands outside his house and films the overhead tornado and then has an epic flip-out as he realizes HE'S STANDING OUTSIDE FILMING AN OVERHEAD TORNADO.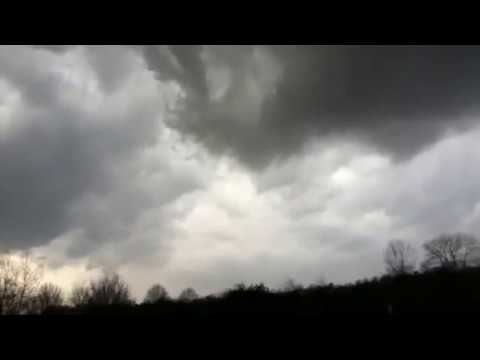 Forget the stuff we learned in school like "go to the basement" or "hide under a table." This kid is rewriting tornado safety rules. Which, by the way, can easily be "Incoming UFO" safety rules.
1. Grab a video camera.
2. Tape it until you shit your pants or the force of the wind generated from it sucks your eyeballs from your skull. Whichever comes first.
3. When it lands, run away screaming while shitting your pants.
4. ALWAYS REMEMBER TO LOCK THE DOOR.  This is the tornado's kryptonite.
Now, go back and watch the video and every time he says tornado or twister, replace it in your mind with UFO.
You're welcome.