I'm sure by now you've seen the video of an allegedly drunk, unruly, and uncooperative Pirates (and USA) fan being escorted from Saturday's Pirates game and then being tased and beaten with a billy club when he refused to follow police orders.
The video, taken by a Pirates fan and blogger, is startling: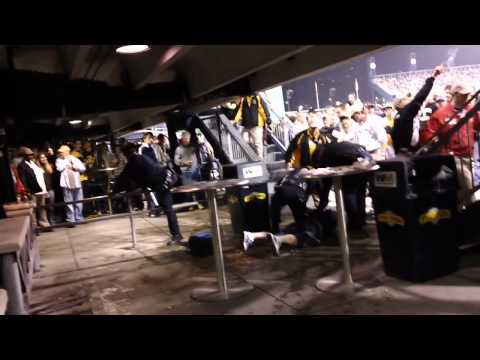 There is debate of course today as to whether excessive force was used in bringing the fan down, as the officer that struck him reported the fan took a fighting stance and therefore the officer feared for his safety.
1. I don't see the fighting stance in question. It appears to me that Rende tased then immediately hit. However, the crowd is unruly and the tasing seems to have no effect on the man.
2. This, Internet, is why you DO WHAT YOU'RE TOLD when it is an armed police officer doing the telling. We've been over this so many times. If you choose to disobey an order by a cop, you might as well hold up a sign that says "Tase me, bro."
3. My first thought at seeing the video was that Detective Rende went a bit overboard, but please keep in mind that I am fully aware that until I am a police officer and I am faced with a threat to my safety in an unstable environment, I cannot know what motivates a police officer to exert the force he or she chooses to exert. Your safety and the safety of those you're protecting must come first and I'm sure sometimes that sense of self-preservation kicks into overdrive. Of course, if you have a heightened sense of self-preservation, probably you shouldn't choose law enforcement as a profession.
Gosh. If ever I've written a sentence that could be followed with "I'm just sayin'," that was the one.
4. The fans chanting "USA!" should be ashamed.
5. Francis "Frank" Rende is a name you should know, Pittsburgh, if he is indeed the same Frank Rende, and the fact that I can't find anyone else making this connection is making me wonder if I'm wrong about this and if I am, please let me know it's not the SAME Frank "Francis" Rende.
He is the police detective whose sister lived with Dennis Regan, the former city operations head who was once nominated by Lukey to head the public safety department. Regan resigned when it came to light that he tried to interfere with punishment for Rende and tried to get Rende promoted despite … wait for it … wait for it … a history of misconduct.
Ah, there's the pointy teeth that are going to bite the city in the ass.
We don't just have an officer who feared for his safety using a taser and billy club on a drunk man. What we have is an officer who was told in 2000, ELEVEN YEARS AGO, that any further misconduct would be cause for termination after it was revealed he returned to a victim of domestic abuse's house to have sex with her after responding to a call at her home, who stayed on the force because of family connections, who called off 37 times in four years to work side jobs above and beyond his almost six-figure detective job, who has a "complaint history at the city's Office of Municipal Investigations [that] contains a dozen accusations of conduct unbecoming an officer, verbal abuse and excessive force," tasing and beating a drunk fan.
Again, Rende could truly have feared for his safety and could have justifiably used force via taser and billy club in this instance, but because of his history, there's a whole new layer of questions and doubts.
Take a note. By allowing a police officer with a history of misconduct and excessive force to remain on the job, the City of Pittsburgh is now faced with defending Rende, who has once again managed to notch a pockmark on the face of the Pittsburgh Police force's integrity.
Commence the biting of the ass.
Finally, why can't more police officers be like Chuck Norris? "You're under arrest. Hands behind your head." "No." [Roundhouse kick to the chin].
That's not excessive. That's efficient.
I'm just sayin'.