If there's ever a movie role in which an actor must portray a man who believes he is the first person in the history of baseball to catch a foul ball, my brother-in-law is going to win the BAFTA, the Golden Globe, the Oscar, and possibly the Medal of Freedom.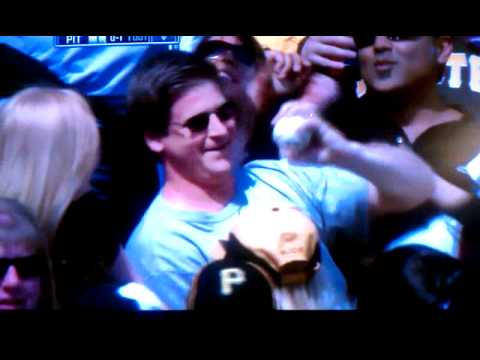 That's Muchacho, as my husband calls him. He is the husband of Pens Fan and he's catching a foul ball at the home opener.
Seated to his left, wearing a Chivas Mexico cap, is his nine-year-old son (the same son that raised over $1,200 for Jamie and Ali by asking his classmates to donate change). Seated to his right is a congratulatory blond woman who is not Pens Fan.
No, Pens Fan is pregnant (as is Princess Aurora. Yes. The twins in my family are expecting their respective third children within five days of each other in August. If God loves me, they'll go into labor at the same time so I can be royally entertained by their tag-team histrionics of begging for epidurals.) and was home napping on the couch when this happened.
After catching the ball, Muchacho turns around, his arms raised in triumphant victory [music swell]. He's looking ten rows back to me, my husband, my other brother-in-law, and Princess Aurora, who are freaking out because he's the first person in history to catch a foul ball. We have our fists in the air in victory [crashing cymbals]. We are shredding our programs to make confetti with which to shower him.
Princess Aurora then texted Pens Fan and told her to rewind the game to check to see if Muchacho was on TV.
We waited a few minutes. The game continued.
Then … [soft dramatic staccato] … a text came in from Pens Fan [climactic overture with heavy drums].
[I don't really know what "overture" means]
Text: "WHO'S THE BLOND?!?@?@"
[Psycho shower stabbing music]
Watch your bunny, hot blond chick sitting next to Muchacho.
Watch. Your. Bunny.