First, I apologize for using the word winning. Momentary lapse of insanity.
Second, I regularly troll YouTube for Pittsurgh videos and found this one this morning.
I don't know these people, but their names are Mike and Lindsay. Mike proposed to Lindsay in a very cool way atop Mt. Washington by aiming one of those viewers toward a platform at Heinz Field where their family and friends were holding signs that spelled out, "Lindsay, will you marry Mike?"
Start watching at 1:15 in.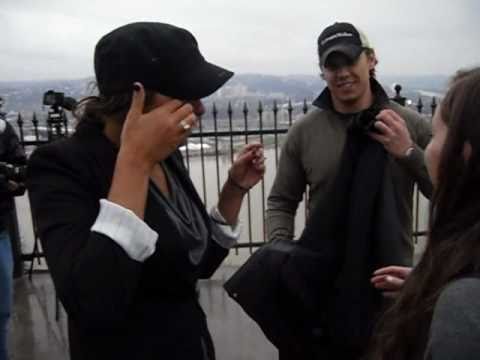 Boys, this is a fantastically romantic way to propose, so put it in your pocket as a possibility along with flash mob, airplane jump, and gorilla suit. What?
Also something you can put in your pocket and then mail to me, a note explaining what looks like the news cameras.
Never mind! Found it. Who needs you?
Here's a news report from KDKA and you'll be able to see the family members holding the signs.
And now I have a world of questions like, is it standard proposal protocol now to invite the media to your proposal and also, how did they explain the news crews to Lindsay? "What news crew? I don't see any news crews."
Either way, well done, Mike.