If you've been a regular reader of my blog since my Burgh Blog days, you know that I have obsessions.
REAL INTENSE OBSESSIONS.
Bryan Adams is one because his voice does something to me.
For a while, inexplicably, Blake Shelton was one. I think 'cause he's real tall. [shrug] Like I said before, I don't pick my obsessions; they pick me. Amen.
The movie Strictly Ballroom is one. Because it's kickass.
Andy Van Slyke was one.
David Cook. Zima. Nutella.
My latest obsession is Roberto Clemente.
I'm reading everything I can about him. Watching videos of him in action on YouTube.
At :24 of this video, he runs almost exactly like Phoebe does in Friends.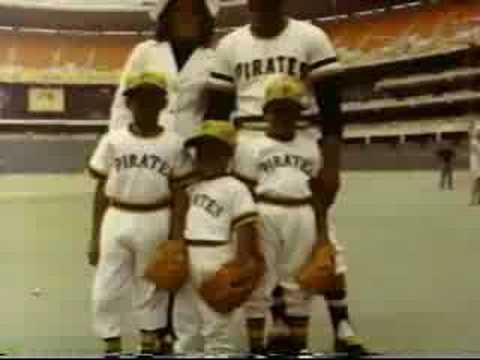 With abandon.
I've written my July column about him already and I'm only halfway through this book about his life.
I've become an annoying sponge of the squarepants variety. I soak in what I can and then I squish it back out by talking my husband's or father's ear off about whatever amazing thing I learned about Roberto.
And now that I've said all that, this post isn't actually about Roberto Clemente.
I'm weird like that. Messing with you all, "Monkeys. Monkeys. Monkeys. Monkeys. RAINBOWS ARE WHAT I REALLY WANT TO TALK ABOUT!"
This post is about this excerpt from the Maraniss book:
Ridiculing the Pittsburgh Pirates was one of the simple pleasures of the national pastime in the first half of the 1950s. The Boy Buffoons of Baseball, Life magazine called them. "The atrocities they committed under the guise of major league baseball were monstrous," wrote Marshall Smith. "Pirate pitchers threw the ball in the general direction of home plate and ducked. Pirate batters missed signs as blithely as they missed baseballs … Sporswriters accused Pirates of running the bases with their heads tucked under their arms."

… The Pirates were bound for the cellar every year, the only tension came with guessing how many games back they might finish. In 1952 when they were accused of fielding a TEAM OF MIDGETS (emphasis mine), infielders so short that balls bounded over them for doubles, they ended up fifty-four and a half games behind the Brooklyn Dodgers."
Wow.
That's not all, you can read the article from Life and also see some awesome old advertisements from the 1950s here.
Another great line:
The principle elements of the Pirates recent strategy seems to be to score a run early in the game and then pray for rain. When there was no rain, the team kept looking for a large hole to open up in the earth in the vicinity of second base.
So, you see, the point of my post is not monkeys. It's that the Pirates were once laughingstocks praying for the earth to open up and swallow them, and then one day they were world champions. RAINBOWS.
Right now, they're riding the Laughing Stock roller coaster like they're trying to break the Guinness record for riding it the longest. But eventually they're going to hit one dip too low or one corkscrew too tight and they're going to puke and beg for the ride to stop.
Who knows when it will happen or under which ownership it will happen, but history tells us that it happened before and it can happen again.
At least that's what my Kool-aid tastes like this morning.
Rainbows.