When you're a man sitting in the first row of the outfield seats at a Pittsburgh Pirates game and Andrew McCutchen blasts a solo homer right at you, you can do two things.
A. You can do what most sports fans do and elbow men, women, grannies, and children out of your way to catch the ball, at which time you throw your hands triumphantly into the air and high-five all the strangers seated near you.
B. Hunker down in fear and attempt to cover your entire skull with your sprawled hands.
Like this guy did.
The video is terrible because my brother-in-law Muchacho filmed it vertically on his iPhone and then switched the channel before I could tell him to refilm it horizontally.
But you can clearly see which man I'm talking about.
Check it out.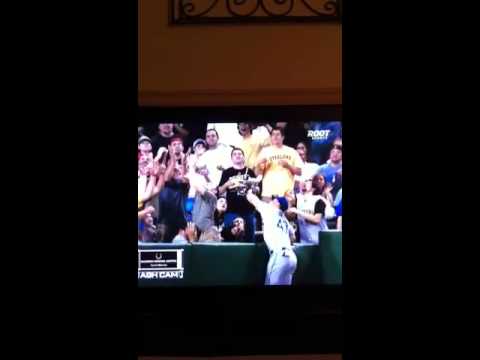 P.S. If that is one of you, I apologize for how deeply and strongly I pointed and laughed at you.
P.P.S. If any of you has that game recorded, put this on YouTube for me so I can point and laugh in embiggened resolution.
P.P.P.S. I didn't curse the Pirates. Regis Philbin did. Leemelone.