1. [insert weather whine here.]
2. Jamie Dixon, coach of the Pitt men's basketball team, made almost $1.7 million last fiscal year, up over $300,000 from the previous year.
I'm sure there are good reasons that a good basketball coach is imperative to the health of a school's athletic program and that somehow that athletic program turns into a lure for students or something something something. But right now my brain is rejecting all of that on account of ONE POINT SEVEN MILLION DOLLARS. BLLLLLLLLL.
It should be noted that he made a million bucks more than Chancellor Nordenberg.
BLLLLLLLLLLL.
3. PNC Bank is apparently the mystery buyer of almost a complete block of real estate along Wood Street/Fifth/Forbes corridor, likely planning a new skyscraper for that plot, rumored to become their new headquarters.
And here I was betting it was Point Park University buying up the plots.
4. Yesterday was the primary elections and a few important things happened:
Bob O'Connor's son Corey, he of the desperate need of a spot of Dippity-Do, is likely to take over his father's old council seat in November after his primary win yesterday. I'm dying to see what his relationship with Lukey will be like. As for Corey's big issues:  "He said his first priority … will be ensuring the delivery of basic services to residents of the district. Asked to elaborate on where services need to be improved, he replied: 'Obviously, potholes. Everyone complains about potholes.'" Ah, the War on Potholes. I thought we surrendered on the battlefield and gave our cars up to sinkhole graves.
Doug Shields lost his his bid to become a district judge, which he gave up his city council seat to run for, leaving his political future in Pittsburgh quite uncertain. Somewhere, Lukey is celebrating all, "DIET PEPSI AND PROCLAMATIONS FOR ALL!"
County Executive's race is down to the Democrat County Council president Rich Fitzgerald, and the Republican Raja, who as far as I can tell, goes by one name. Raja. Madonna. Cher. Snoopy.  Raja is already advertising the cah-rap out of himself on the front page of the P-G.com.  As Randy Jackson would say, "He's in it to win it, dawg."
5. Kate and Peter's Treehouse is coming along nicely now that a new location within Frick Park has been identified. In order to ensure that the resulting play space and structure is truly a community-supported effort, a series of meetings is being held to allow the public to give feedback. The first meeting already took place and included neighborhood children. Amy said it was wonderful. She's asking for community attendance at the next meeting:
Thursday, June 2, 5:30 – 7:30pm
Frick Environmental Center, 2005 Beechwood Boulevard

Everyone is welcome at this outdoor session, where we'll be visiting the location of the treehouse and asking everyone for their ideas. Following this activity, the project team will begin to develop design concepts.
This will lead up to a June 28 meeting when the preliminary design will be unveiled for input. All this working towards a final goal of allowing Amy to memorialize her children, something she has known she wanted to do since they died two Aprils ago.
6.  Another memorial event will be taking place this summer, as mentioned before on this site, the Lisa Clay Styles Memorial Race taking place June 25. On the site, her husband calls her, "The best damn woman I've ever seen." I love that. So raw.
Lisa is the young mother who was killed by an under-the-influence driver while running with her child in a stroller in Mt. Lebanon. The race is looking for support in the form of sponsors and volunteers. Go help them!
7. The latest video in RiverLife's "Living in a River City" animated video series is just adorable, this one a young girl named Louise's story.
The animated flotilla is awesomesauce.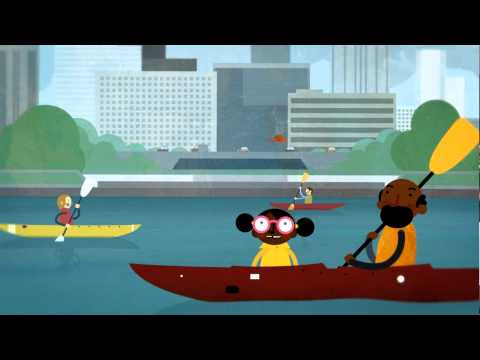 Love it!
8. This damn rain is making me use words like awesomesauce.
If I say bombdiggity, someone just bitchslap it out of me.
9. Pittsburgh's Spanish immersion preschool La Escuelita Arcoiris is holding what sounds like a ridiculously fun event this weekend called Salsita! at the Opera featuring "tapas, sangria, y baile," which my incredible Spanish skills translate for you to "tapas, sangria, and DANCE YOUR PANTALONES OFF."
If I had known about this school before my kids were too old for it, it wouldn't have taken my son until he was eight to learn how to roll his Rs.
Unfortunately now that he's learned how to do it, he doesn't just say, "Arrrrrrrrrrriba!" he says, "Carrrrrrrrrrrrrrots," and "Grrrrrrrrrrrrrrrandma!" and to his sister, "Dorrrrrrrrrrrrrrrrrrrrrrk!"
Then I get to say, "You're grrrrrrrrrrrrrrrrrrrrrrrrrrrrrrrrrrrrrrrounded! Arrrrrrrrrrrrriba!"
10. Sidney Crosby and Jordan Staal are living the high-life in Cannes, France for the film festival, taking in screenings and enjoying after-parties on yachts.
I'd like to live the high-life one day, but knowing what a giant dork I am, I'd probably just fall off and belly-flop so hard my nose and ears would bleed.
I'm the bombdiggity like that.
[throws signs]