1. It's FRIDAY!!!!!!!!!!!!!!!!1
I don't normally use a lot of excess exclamatory punctuation followed by a 1, but I'm still at the mercy of the Brain Bongos.
In other news, I feel like a straightjacket is in my future. You can only take so much in-brain bongo drumming before you start running the streets screaming and tearing your hair out.
2. The City is upgrading to Google mail for email because their archaic system of pigeons and hastily scrawled notes wasn't working out too well. Although, it's possible they upgraded from pigeons to Lotus Notes prior to this switch.
Never one to pass up the chance to speak plainly — non-verboserly, if I may just make up a word, Lukey said:
"Adopting this application aligns with our goals to utilize the best, most innovative technology in order to modernize our government, cut costs, and improve operational efficiencies," Mr. Ravenstahl said.
Thank you, Pointy-Haired Boss.
When I'm mayor, that will read, "This is going to save us a bundle of money, folks, and added bonus: our emails will actually get sent!"
3. This Pittsburgh proposal story is adorable, fresh, memorable and in a way, historic.
It's the story all about how the lawyer proposed to the doctor at the location of their first awkward kiss.
Check it out! [/Wendy Bell]
4. Last week an Amish woman in Indiana County (that's an important part of this) died in a laundry accident.
Gizmodo dug deep and got to the heart of the matter.
Amish Woman Dies after Freak Laundry Accident

Well, this is awful. An Indian Amish woman died while doing laundry the old fashioned way—over a flaming pot of boiling water. It appears the flames got out of control, consuming and killing her with burns. Well.
Indian. Indiana County. Same diff.
[golf clap]
(h/t Dan)
5. My new friend at Make-A-Wish, Dana, informed me that Pittsburgh Popcorn Company's downtown store is featuring  Hazelnut Nutella popcorn the week of June 17-23.
I'll be the curly-haired, straightjacket-clad chick first in line muttering about "Bongos. Make the bongos stop. Make the bongos stop, for the love of Nutella."
If I ask for white chocolate drizzle, will they honor that or kick the crazy lady clutching fistfuls of hair out of the store?
6. I love kids. I particularly love sick kids or disabled kids because, what a hand they've been dealt, right?
Another person who loves disabled kids is Pittsburgh native Sean Casey who along with his wife Mandi of Casey's Clubhouse, and Bob Nutting, broke ground for a special Miracle League baseball field that will be accessible to children with disabilites to allow them to come to love playing baseball.
How awesome is that?
The field will be located in the Upper St. Clair Community and Recreation Center in Boyce Mayview Park.
See more pictures from the groundbreaking here!
7. The problem with me being so wrapped up in those who I shall not discuss (Sigh. The curse. It lives. Maybe I am the curse.) is that I've fallen behind on what's happening with the Pittsburgh Power.
According to reader Tracy, with their recent win, they're now in first place in the American Conference East Division.
I know many of my twitter friends have been attending the games regularly. How is attendance holding up?
I could Google that, but I'm too busy dancing to I'm Too Sexy which is now playing in my brain.
Sooooo sex-ay.
8.  A funny picture sent by reader Chris.
You know what they say — When God closes a door, he opens a bar.
Rep. Gergely might want to get his signage taken down soon.
9. I'll have three giveaways happening next week. The first on Monday and then on Wednesday, a combined giveaway for two prizes.
10. Genre's Kids with Cancer Fund is holding their annual golf outing on Monday and their annual 5K race is coming up in August.
Check out the details for both events here!
I plan to take part in the walk part of the race again this year and therefore will be raising money later this summer for it.
Don't you fret. Have I got some AMAZINGLY embarrassing pictures to help motivate you to pledge to me. The one I found recently includes me with a mullet, a mustache, and a formal dress.
You ain't ready for that jelly because it's business in the front, party in the back, and fuzzy on the upper lip.
11. Finally, a new flash mob hit Market Square today, this one for Pride Week and it is rainbowtastic.
That guy in the front in the green shirt? LOVE.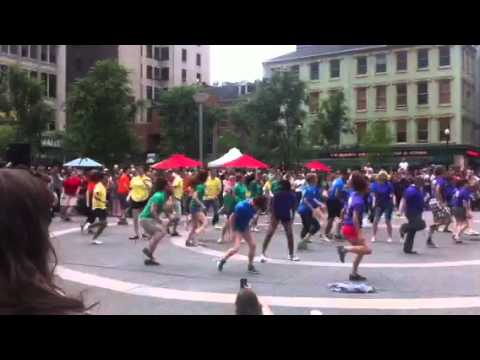 That's called COMMITTING TO THE DANCE WITH HAIROGRAPHY, BABY!