Tony Siragusa makes me want to punch a hot meatball sub.
I can't explain why any more than I could explain why Tom Brady makes me want to punch a car.
In fact, the announcers in general from yesterday's game gave me several punchy moments.
When Ben was hit in the knee by a Seahawk, which, first, let's all imagine an actual seahawk divebombing Ben's knee.
[blink]
And we're back.
When Ben was hit, the announcers began a commentary after that penalty that I shall now paraphrase:
"That wasn't intentional. Clearly that wasn't intentional. I think when we see the replay in a second here we are going to see that the Seahawk was tripped by a Steeler and the forward force of the fall was what brought him into Ben's knee. We'll give him the benefit of the doubt because again, we are sure that wasn't intentional. Just an accident. Accidents happen."
Later in the game, Legursky, I think it was, was called for an illegal block in the back or something like that and I shall now paraphrase the commentary that went with the penalty:
"OH MY DEAR GOD. IS THE SEAHAWK OKAY?! SHALL WE BEGIN CPR?! A PRAYER VIGIL?! A GENTLE WEEPING OVER A SINGLE DYING CANDLE?! That is how you hurt people for life. That is how career-ending injuries happen. We have talked about this. There are rules in place for JUST THIS REASON. TO PREVENT THIS KIND OF GROSS, HORRIFYING, MOTHER OF GOD TRAGEDY. Clearly this was a Steeler hell bent on hurting someone. God have mercy on our souls."
And I'm really only SLIGHTLY paraphrasing.
Let's talk football?
1. Bur first, let's worship at the altar of Troysus, in recognition of the fact that he actually showed up for this game.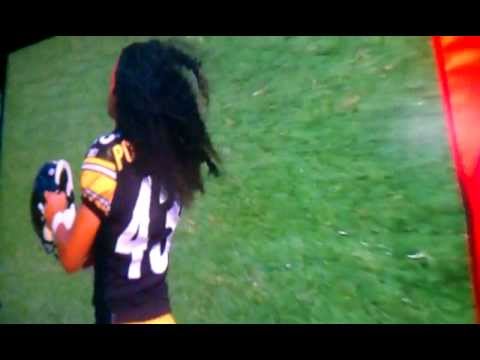 Can I get an AMEN?
LOVED that show.
2.  As we just discussed, The Duke of Fug and the Earl of Gross was taken down at the knee by a totally well-meaning Seahawk who accidentally aimed low, but Benny managed to get back into the game after just a few snaps taken by Charlie Batch, who as you recall is seven thousand years old.
Note to self: Self, this means you, Ginny, do not Google Charlie's age because there is a good chance you are older than Charlie Batch. You're going to do it anyway, aren't you? Sigh.
SON OF A BITCH! I am older than Charlie Batch by seven months.
[gulps wine] [checks mirror for crows feet and gray hairs] [sobs] [gulps more wine]
2. After the Duke re-entered the game, there were several times I saw him standing in a collapsing pocket with an imminent sack nearing him and he still managed to remain patient, calm, and throw to his man. This is in contrast to last week when he sucked hard enough to drink an ocean through a straw.
Try the veal!
3. We interrupt this WTRT to say, "If Braveheart was a Steelers fan."
I think those are the Lost numbers on his hat. Or maybe he ran out of paper during a hard addition problem?
Also … *let's.
Apostrophes are our friends!
4. We further interrupt this WTRT to say, "If Lucha Libre was a Steelers fan." Who is that masked man!?
I am one thousand percento sure that's Lukey-o.
Hey! He showed up for something!
5. Hines Ward, who is also seven thousand years old [runs to Google. Sobs. Drinks moar wine.] made an awesome catch during a gadget play, one thrown by Emmanuel Sanders, who is not the quarterback — in case you're unfamiliar with what a gadget play is.
He also made a stunning, toes-barely-inbounds catch after which one of the stupid commenters said, "You know, people think Hines Ward can dance because he won Dancing with the Stars, but in reality, he can really catch a football."
Now everything Hines does on the field has to somehow be connected to his stint on Dancing With the Stars?
Lovely.
Actually, Hines, I think that's the Catcho el Paso.
Let's ask Ben. He knows all the plays.
Oh. I didn't know that.
Man, ballroom is hard.
6. Emmanuel Sanders had a hell of a game, not only catching two nice balls as a wide receiver, but also the aforementioned gadget play to Hines Ward.
I have a question though: What is the thing some players do when they make a good catch or they play good pass-defense and they put a hand up in an open bitchslap kind of way and then wave that hand back and forth real fast mere inches from their eyes like a blind man just confirming that YEP! STILL BLIND. AIN'T SEEIN' THOSE FINGERS TODAY.
What does that mean?! Windshield wipers? I'm toasty warm but also dumb as spit so this is how I try to cool myself off?  Jedi mind trick in hyper-speed? Super fast HAPPY SAD HAPPY SAD HAPPY SAD trick?
WHAT?!
It has been bugging me for years. I've even seen Coach Tomlin do it, and before I break it out in a church group, someone educate this oldster and bring me some damn fiber while you're at it.
6. Daniel Sepulveda. MONSTER PUNTER.
That is all.
7. Mike Wallace has become a huge talent who doesn't just outrun his pursuers in a straight path anymore. He runs routes and stuff and important sounding football terms and the wine has kicked in and wow, my crows feet look better already!
Wine. The new Oil of Olay.
Anyway, one of Mike's catches was a beauty in which he caught the ball with his fingertips while running full speed ahead.
Clearly, the ball loves Mike Wallace as much as we ladies do, and it performed amazing acrobatics just to find itself in Mike's strong embrace.
Well, this has turned uncomfortable. Let's look away.
8. While we're looking away, let's not talk about a couple of things. Let's not talk about Shaun Suisham missing a 41-yarder and let's not talk about that goal line stand the Seahawks had against us.
Let's just go ahead and mindwipe those now.
IS THAT WHAT IT IS?!
Last week's debacle against the hated Ravens is a distant memory now and next week we take on the Indianapolis Colts who haven't won yet this season. They'll be in it to win it, but I'm not worried.
We've got the Paso el Catcho, the Catcho el Paso, the Pointo en Dos and the Mindwipe on our side.
Oh, and God too.
What? I would know. I'm seven thousand years old. God and I go way back.