Last night Arron Asham knocked out the Caps' Jay Beagle in defense of Sexhair Letang, or in French, Sexhair Letang. What?
Anyway, it was a good ole' fashioned hockey fight sure to get the bloodlust going for fans on both sides of the Pens/Craps war, until Asham skated away and suddenly turned into Hulk Hogan making wrestling-like gestures basically indicating that yes, I done did PUNCH THAT JERK'S LIGHTS OUT LOL.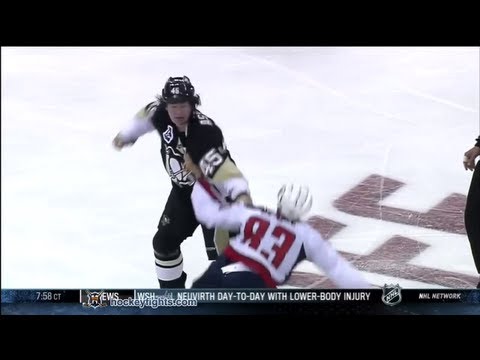 Except maybe not LOL because my opinion is that while the fight was fine within the current rules of hockey fighting, the celebrating the knockout just isn't done in hockey. It's poor sportsmanship.
But really, who are we to complain about poor sportsmanship in a sport where fighting is actually considered USEFUL in sending a message?
But isn't there a better way to send a message to another team to keep their dirty paws off of our best players? I don't know? Evil looks? Tweet bombs? Horse heads?
Probably not. There's no better way to say, "I see what you did there to my teammate and it's time for your cranium to meet my fist so as to remind your team not to let it happen again."
But the "I put that mofo to SLEEP" gesture was a bit much.
But how do you shut off adrenaline like that after you've punched a Crap's lights out in two punches? If I were fortunate enough to punch Ovechkin's lights out, I'd dance on his back and break plates and scream OPA! for about an hour.
But I'm not paid a lot of money to play a game and keep my emotions in check.
But what about Max's "shhhhhhh" gesture. That was pretty awesome.
But he didn't knock a guy out like Asham did.
BUT IT WAS A CAPITAL, SO POO ON THAT GUY!
But I'm glad Asham apologized.
BUT POO ON THAT GUY.
See. Hockey is just violent.
Amen.