I took my father to see Quidam on Wednesday, the Cirque du Soleil show that runs only until Sunday at the Petersen Events Center.
Like all Cirque shows, this one was filled with jaw-dropping stunts, hilarious "clowns" so funny they made me cry all my makeup off, beautiful ethereal music, and it sent you home with the desire to exercise for 36 hours straight after watching such perfect, lithe, strong, toned bodies for three hours.
There is a performer in Quidam,a Burgher named Pat McGuire who plays the role of the father and who performs a juggling act during the show. Pat is beyond talented, because I don't know if you know this, but juggling is impossible. When I was a teen or maybe even in my twenties, I spent almost an entire day trying to teach myself how to juggle and I got as far as NEGATIVE NOWHERE! Abject failure. I think it might be that, you know, inner ear thing that also prevents me from successfully parallel parking or curling.
The Patch has a great video of Pat up where he talks about juggling in Pittsburgh and also gives a few tips on becoming a good juggler. Pat says juggling is as easy as making an X in front of your body. LOL. Liar liar pantalones en fuego, amigo. Pat also says there is a juggling club in Pittsburgh.
Man, I oughta go to a meeting and write about it for the magazine. It will be the only time I'll be able to get away with writing, "Oh, BALLS!" without my editor taking it out. Probably.
Pat put a Pittsburgh tribute video up on YouTube and it is a must-see as he juggles in all of Pittsburgh's best-known locales.
Check it out, Wendy Bell: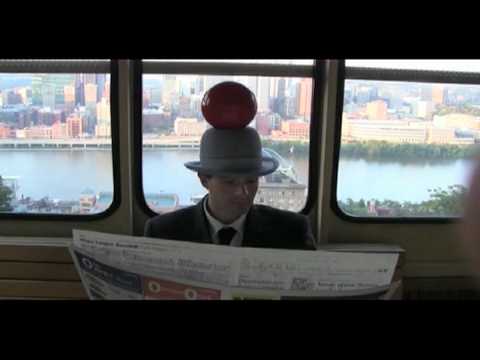 I think I love him, you guys. Hard.