Yesterday. In Wal-Mart. My husband and children and I are on a shopping excursion and are just entering the store.
Husband: "Do they sell baper ruv here."

Me: "WHAT?!"

Him: Baper ruv.

Me: Baper ruv?

Him: [enunciating very clearly and deliberately] Ba-per ruv!

Me: Maper rub?

Him: [making the wax on/wax off gesture] BAPER RUV!

Me: PAPER RUB?!

Him: [rubs his chest in circular motion] BAPER RUV!!!!

Me: Do you mean "VAPOR RUB?"

Him: That's what I said! BAPER RUV!

Me and my son: [fall over each other laughing]
You'd think after 11 years living in America, he'd have figured out that V and B thing by now.
Gotta love the Mexicans. Especially when they do amazing stuff like this video shows. This is in Spanish, but essentially, this super Steelers fan in Mexico City took down a street sign on a short little street in his town, and climbed up and put in a new name. Wait until you see what he changed the name of his street to without asking anyone if he could.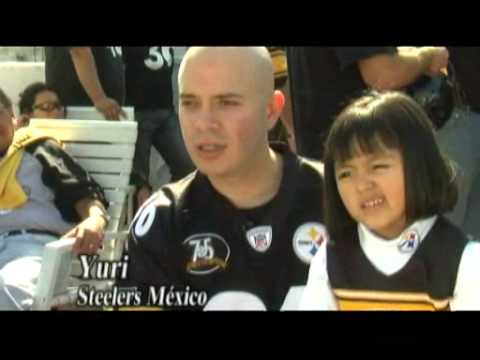 I wonder, can we do this in America? Because I'm thinking "Daniel Sepulveda Way" would be a nice address to have.
It's a great video and I'd like to go find all of those Steelers fans in Mexico and give them a hug and then ask them to say "focus" and "Vapor Rub" for me.
Somewhere, my husband just swore at me in Spanish. Worth it.