I bet some of you don't know who John Meyer is. He's a sports reporter at WTAE and I met him over the summer, or wait, last summer? Woy? I can't remember. Anyway, he and I were both presenters at Media Career Day at Kennywood. He talked about working in sports. I talked about blogging about self-united husbands. Reach for the stars!
John is awesome. Seriously. Charming. Easy to talk to. Sincere. We like him.
John and the rest of the morning team wagered with a Baltimore station to wear purple if the Steelers lost to the Ravens:
Those crazy folks over at WBAL laid on the smack talk with WTAE in Pittsburgh and forced their morning show to wear purple after the Ravens beat the Steelers in week nine.  Of the three reporters, news anchor Wendy Bell wore a purple blouse, Kelly Frey a black blouse and John Meyer, the sports guy not the whiny singer, wore a suit with what he called "purple pinstripes."  I didn't see them.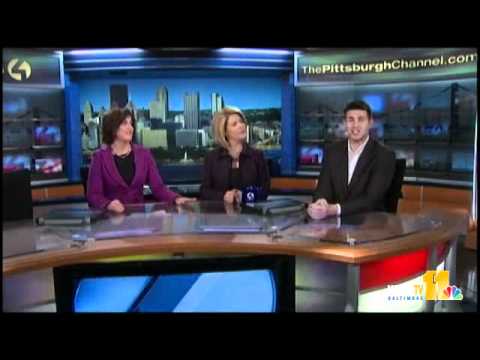 Okay, first, that's not Wendy Bell. That's Michelle Wright.
Second, Kelly Frey is clearly wearing a purple blazer thingy over the black blouse.
Third, yeah, John Meyer, NOT WEARING PURPLE.
I love his explanation that the pinstripes in his suit are purple. Nice try, John. Like smacking a piece of red lint onto a yellow dress and calling it red.
Also, some gems from the comments:
I like to think our fanbase is classier than our opponents.
[falls down laughing]
You open mouth and accept the challenge, and refuse to step up and pay your dues. Pittsburgh is a proud town with very loyal fans. What a shame your station lack integrity, we respect the Steelers, by not your station. Woossie……
Is Woossie the Wookie Chewbacca's wife?
Ravens fans are better than berating some local schmuck because he didn't wear enough purple. Let him be the small-minded coward.

I sent a note to the station and suggested that the welcher, Meyer, make a donation to a Baltimore homeless shelter or other charity for the holiday season, if he's not man enough to own up to his bets.

Stop saying "welcher", it is "rascist" to the people of Wales.
I love the "Internet."