1. A conversation with my father:
Dad: "Mom and I have a bunch of pictures from Aruba."

Me: "Cool."

Dad: "We want to make a photobook."

Me: "Shutterfly is the best. I've tried them all. Shutterfly is the easiest by far."

Dad: "Do you just upload your pictures?"

Me: "Yeah and then it will sort of throw them all into a book in chornological order and you can edit them and stuff. Super easy."

Dad: "You might have to walk us through it."

Me: "Okay."

Dad: "Actually, you'll probably need to carry us."

Me: [blink]

Dad: "Actually, you'll probably just need to do it for us."
So that's what I'm doing tomorrow night.
2. The Thirteen Deaths of Cooey the Pigeon as sent to me by Michelle the Knitting Lady!
Death by Thud is my favorite and has given me a GENIUS idea to start whipping hockey pucks at pigeons in Market Square.
3. Speaking of Market Square, I've come up with a brilliant plan to try to use a parking chair in the square this winter. I'll let you know how it goes.
4. Reader Nancy's Jack Rabbit pic showing her double-dip-bopped kiddo:
Woo that child is AIRBORNE. Whoever described the seat belts as "dog leashes" hit that nail on the head.
Love it. Send me more, Internet!
5. The Lockes, a husband and wife team who lost their mothers to cancer are in their tenth year of an event benefiting the American Cancer Society. They're hoping to make the tenth year their best yet.
Saturday November 12, 2011 at 7:oo p.m. at Finnigan's Wake. $20 at the door gets you appetizers, two draft beers and a long-sleeved shirt.  Plus 50/50 drawings, raffle, auction and more.
6. I don't remember much about my senior prom, but the picture the photographer took on the Gateway Clipper that night is full of dork-win. I will share it with you in the next round of Make Room for Kids fundraising.
If your prom sucked, you can do it all over WITH BOOZE at Literazzi's Prom 2012 benefiting the Greater Pittsburgh Literacy Council!
November 11, Literazzi brings you the prom you always wanted… where the booze is legal, the music doesn't stop until the wee hours, and you have much better hair than the first time around. Have your picture taken by Nerds Behind the Lens, put on something fancy and spike the punch. The chaperones won't mind.
I love it! Tickets here!
7. The Mario Lemieux Foundation's Bid for 66 is now live with a crap-ton of awesome autographed items up for bid, all benefiting Austin's Playroom Project of which Make Room for Kids is a program.
Items and game-used items are available and signed by people such as Mario, Sid, Marc-Andre and more!
8. You may have seen a lot of things in your life, but I bet you ain't never seen a donkey fly. I mean, I bet you've never seen a senior citizen flash mob like the one those crazy kids over at Asbury Heights did over Halloween.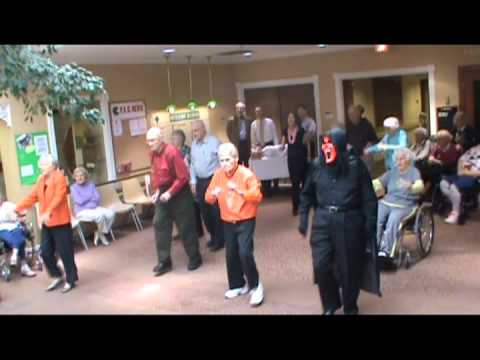 I love it! I have seen the future of flash mobs and this is it.
Or dog flash mobs.
Either or.
(h/t Stephanie)