1. Each day at my son's bus stop, which is at a stop sign, the bus sits there with its lights flashing, its stop sign out and lit, allowing kids to embark or disembark the bus.  And each day, at least two cars come down the cross street, stop at the stop sign, and roll on through.
Burghers, are you unaware that the only time you DON'T stop for a school bus which is loading or unloading children is if you are on a highway with a concrete or grass median, otherwise, YOU HAVE TO STOP?
Here's a handy PDF to help you determine if you need to stop or not, but the easiest thing to do is realize that 99% of the time, YOU HAVE TO STOP.
Otherwise I reserve the right to keep eggs in my coat pocket and I will yolk the HELL out of your car as it rolls through the intersection.
2. I don't care if you smoke or not, when you see a legit news headline of "Smoking Can Make Your Nipples Fall Off," YOU CLICK THAT SHIT.
Amazing.
How'd you like to be on the operating table and your doctor says, "Crap. Her nipples are FALLING OFF! Get the leeches!"
3. If you want to know what watching Steelers games with my father is like, look no further than this episode of Pittsburgh Dad. This is my dad SO HARD.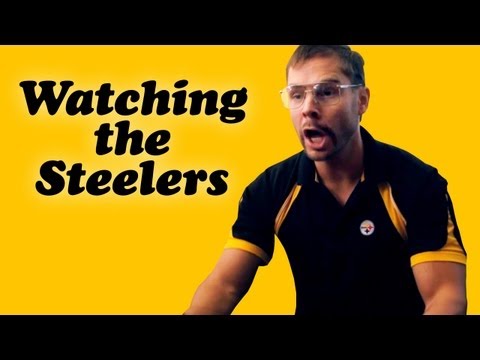 The only thing missing is Pittsburgh Dad calling out the exact second he believes Elvis walked out of the building.
Is my dad the only dad who does that?
Also, WTAE has an interview with Chris Preksta, and thank God they talked a bit about Mercury Men because I am DYING for season two.
4. A religious expert claims Tim Tebow is overshadowing other religious football players, like there's a big competition among them for the giantest Jesus light or something.
I do LOVE this line from Troysus:
While Tebow, the son of missionaries, lives the evangelical Christian life, the Steelers star said in an interview that he's cautious not to push his religious beliefs onto strangers. "It can lead to resentment, and that is not what you want," Polamalu said. "There is also a sense of arrogance sometimes when people are really hearty, evangelizers, and that is opposite of what faith is. Like, 'I know this better than you.' There are a lot of pitfalls to that."
Amen.
But seriously, I'm a PK, so I know this better than you. What's the book after Habakkuk?!
Bzzzz. Time's up.
Zephaniah.
[throws bible signs]
What?
(h/t LeAnnaDinardo on twitter)
5. Henne Jewelers will be placing secret Santa gifts of jewelry near popular Pittsburgh neighborhood landmarks starting this week, for a total of 20 free gifts to whoever is lucky enough to find one. Check their facebook page for more details and be sure to let them know that my front porch stoop has been determined to be a popular neighborhood landmark, by me.
6. A much different Pittsburgh shirt, Steel Town Native by Lain Lee 3, a Pittsburgh illustrator and designer currently living in California:
Pre-orders are still being taken.
7. If you aren't aware, the on-air staff at WTAE has taken their fight for a contract through collective bargaining to social media via a twitter account and Facebook page where they recount some of the problems they face with Hearst.
Internet, I would cut a boss-bitch. Holy heck.
Vacation time is sacred to me.
Also, I'd like to teach the world the difference between its and it's.
8. Burgh father and son Vic and Damon Kahn have launched a website dedicated to happy, good news. No Kardashians or Warlocks here! Check out Happy To Be Here!
9. Chris Hoke's season, and possibly his career is over. At age 35. Sheesh, football is unforgiving.
10. Finally, WPXI's See and Be Seen has an interview with Fear Factor's/UFC's Joe Rogan and in it he is asked about visiting Pittsburgh (start at 2:10) when he mentions he came to Pittsburgh during the "Furry Convention" and what follows is a lovely awkward exchange as both the reporter and Joe have a pregnant pause and then attempt to remain tactful, calling the Furries "interesting" and "enlightening" while their faces both say "WTF IS THIS MADNESS!?!"
Love it!