An hour before the Ravens took on the Patriots I still didn't know who I was rooting for.
Ray Lewis fills me with hateful rage that makes me want to take a golf club to my TV if it means I never have to see him unhinge his jaw and scream his stupid pre-game scream again.
But Tom Brady. Tom Brady. I want Tom Brady's tears. I want to shower in them. Bathe in them. Splash around in them and jump in puddles of them like a child joyfully welcoming the spring rains. I want a monsoon of Tom Brady tears. I want a rogue wave of Tom Brady's tears large enough to capsize Australia.
So biblical hate versus biblical hate. Who should I root for?
Then I asked myself this question: Who could you not bear to see in the Super Bowl?
And I said to myself, "You will puke your eardrums out if you see Ray Lewis in the Super Bowl."
So I cheered for that Ugg-wearing succubusian concubine Tom Brady. I cheered my heart out for him. Go, Tom, go! The words felt odd in my mouth, rolling off my tongue like poison-tipped thumbtacks. Like I had said, "No, I would not like Nutella on that banana, thank you." Or, "I think I'll go for a jog."
When it came down to a field goal, a very makeable field goal that even Jeff Reed would nail WHILE nailing a slut (dirty!), I started to come to terms with the fact that this was going to overtime and I very well might have to stomach Ray Lewis and a Harbaugh in the Super Bowl. I fought against the rising bile and then …
WHAT?!
WHAT'S HAPPENING?!
WHAT YEAR IS THIS?!
WHO ARE YOU?! WHO AM I?!
EINHORN IS FINKLE! FINKLE IS CUNDIFF!
If you've never seen Ace Ventura: Pet Detective, how do you sleep at night? Also, SPOILER ALERT.
If you have seen the movie, then you're SO going to appreciate this new video put together by the Burghers over at Benstonium: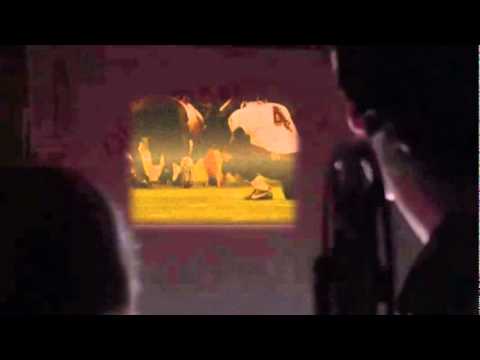 But now that Ray Lewis is dispatched and Tom Brady is in the Super Bowl against the Giants who destroyed him in it four years ago, I'm suddenly an Eli Manning fan praying for a tsunami of Tom Brady's tears to wash Baltimore off the map.
I can't help it.
Football makes me violent like doom.