1. If you've been following my sister Tina Fey's blog at all, you'll have found this absolutely hilarious post about the evils of Box Tops for Education.
Also, when my sister talks about her OCD and neuroses and obsessions, she is not even kidding. They'll make a TLC show out of her soon enough. They'll call it, "The Crazy Lady Who is Terrified of Dented Cans of Tomatoes."
2. Monday is MAKE ROOM FOR KIDS 3.0 FUNDRAISING KICKOFF DAY AND I GET TO REVEAL OUR MOST AMBITIOUS PROJECT EVER AND I AM SO EXCITED THAT I CAN'T STOP SHOUTING.
ALSO, RAMPANT PUNCTUATION SPOILER ALERT!
!!!!!!!!!!!!!!!!!!!!!!!!!!!!!!!!!!!!!!!!!!!!!!!!!!!!!!!!!!!!!!!!!!!!!!
3. Sarris Candies had a devastating fire last night and it feels like the Wendell August Forge disaster again. However, Wendell came back stronger than ever and therefore, Sarris will too.
Pics of the heartbreaking flames here.
4. The penguins at the zoo are going to go on walks for the zoo visitors now, like a parade!
I can't wait!
There better be fireworks too or this isn't a real Pittsburgh parade.
5. Headline: "Banned In 19 States, Animal Gas Chamber Still Legal In Pennsylvania"
Me: "Is it available for rent? For pigeons? I'm asking for a friend."
6. Occupy Pittsburgh has been ordered to vacate Mellon Green, and their response to that has been measured and mature.
I'm not even being sarcastic.
7. Frank McKinney is a real estate guru and children's book author who traded places with a Pittsburgh homeless man recently, for a one night stay at the Light of Life Mission.
Pretty cool.
Also? WHOA:
I don't even know where to start. It's like David Copperfield and Siegfried and Roy made a baby!
8. The new guy over at DVE is comedian Bill Crawford and for some reason I thought "Bill Crawford" sounds like the name of a 55-year-old man. Not that there's anything wrong with that, you geriatric yinzers.  However, as this video of Bill Crawford meeting Sean McDowell for the first time will show, Bill is quite the whippersnapper, getting a whole eyeful of Sean's jaw-dropping Steven-Tyleresque yumminess: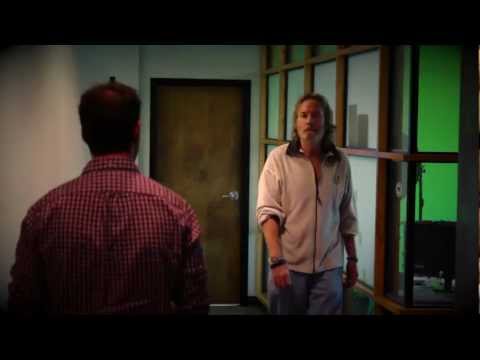 I hope that's really how Sean McDowell introduces himself to fans who approach him in the grocery store.
9. Pictures of Ben Roethlisberger and his wife golfing in Hawaii. Nice butt-pick, Mrs. R!
(h/t PittCheMBA)
10. My dad and reader Becky both emailed me this photo and said maybe I should give this a try to solve my weather-related dish problems:
That's actually kind of brilliant.