This is so freaking cool!
The Pittsburgh Symphony Orchestra is seeking a soloist via a YouTube contest!
Starting Thursday, people who play any one of 10 instruments — piano, violin, cello, flute, oboe, clarinet, bassoon, horn, trumpet or harp — can upload clips up to 10 minutes long on YouTube through March 22. The musicians must play certain concertos without accompaniment, and orchestra musicians and other officials will judge the clips and post 20 semifinalist videos on April 13. The public will vote on the finalists until April 30, with the top four winning paid trips to Pittsburgh to audition for Honeck in June.
If only I stuck with my piano lessons. Or my violin lessons.
But my piano teacher was six thousand-years-old two thousand years ago and she would know my sisters and I weren't practicing at home and then when we missed a note, she would take our finger and she would jam that disobedient digit into the correct piano key with just a smidgen too much old lady gusto. "B FLAT. B FLAT. B FLAT."
I'm pretty sure there are cats that play the piano better than I did.
Oh, look, there are!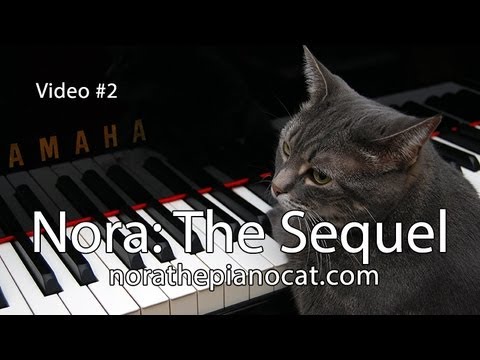 And violin. Well, I sucked at it. I remember playing a song for my grandfather (Love him. Miss him dearly.) and he sat there quietly, pipe in his mouth (Loved those. Miss the smell of them dearly.), as I played "Twinkle Twinkle Little Star" and then when I was done, he took that pipe out of his mouth and said, "Do you think you need some of that rosin there or something?"
Now that I've typed that, I may have taken one of my sister's memories and made it my own. Oh well, finders keepers, sister-bitches.
Anyway, seven years of piano lessons and I can still play Mary Had a Little Lamb and about seven bars of The Entertainer. Here's hoping "Mary Had a Little Lamb for the Right Hand" is one of the audition concertos.
As for the violin, five years of lessons and I can still play diddly squat. That's not a Reba McEntire song. That's diddly squat.
Like zero, only zeroier.