1. A conversation at a family dinner at my parents' house yesterday:
Princess Aurora of Wexfordhampsmintershire: "It's cyoo-pon."

Pens Fan: "Coo-pon."

Princess: "Cyoo-pon!"

Pens Fan: "COO-pon!"

Princess: "CYOO!"

Pens Fan: "COO! You sound like a yinzer when you say it that way."

Princess: "It's CYOO!"

Pens Fan: "COO!"

Princess: "CYOO!"

Pens Fan: "COO!"

Princess' daughter: "How about that Justin Bieber?"

My son: "He's a horrible singer."

Princess' daughter: [GASP!] [GASP!] [GASP!]
Next week, we're going to argue over "CAR-a-mel" and "CARE-a-mel" and then let the kids come to blows over Zoobles versus Bakugans.
2. Joe Manganiello appears in a Glamour magazine photo shoot wearing a Steelers shirt:
Amen. Hallelujah. Testify. That's church. Step off.
[awkward kung fu moves]
(h/t @tehamy)
3.Speaking of [awkward kung fu moves]: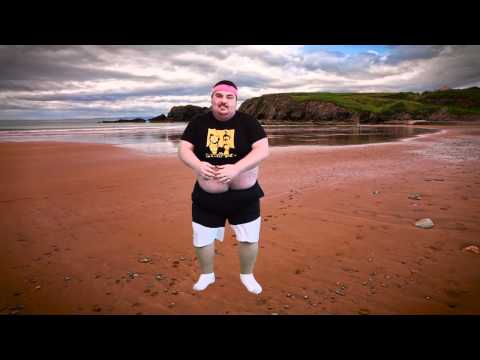 At :57, you can hear Jabba the Hut laughing. For serious.
4. A 27-year-old singer from Washington County has made it to the top 40 in this year's American Idol contest.
5. The Pittsburgh Zoo has welcomed a new baby gorilla, which was born at the zoo last week.
(photo via Getty Images)
I WANTS THE PRECIOUSSSSSS.
6. This site is maintained by Burgher Jill and it is getting lots of attention these days … JOGGING JEANS!
Pictures of people inexplicably working out and running in JEANS. For example:
The site is full of awesome pictures like that. Check it out!
(h/t Cynthia Closkey on Twitter)
7. Ben Roethlisberger made it on to Postsecret!
(h/t Jessica)
8. AJ Burnett is a Pirate. He passed his physical. The trade is approved.
But the next two years were not nearly as successful, and the pie-in-the-face custom he initiated to celebrate victories was soon replaced by booing as his losses piled up. Manager Joe Girardi and General Manager Brian Cashman consistently defended Burnett, a veteran right-handed starter, but after a second straight disappointing season, their patience wore thin, as well.

On Friday, after days of haggling over money and names, the Yankees completed a deal to send the beleaguered Burnett to the Pittsburgh Pirates, where he instantly became their highest-paid player.
On the bright side, he's already used to being booed!
This is the year!
Get on the bandwagon, you guys.
In addition to the margaritas and the taco bar, I'm adding a strolling churro vendor this year!
Ole!
9. Speaking of the Buccos of Suckitude:
"We used to not be the prettiest girl at the dance," Coonelly said with a laugh. "We're a little bit prettier this year but we're still not as pretty as some of the other clubs in the eyes of the dance partners. Like in many areas, we're making positive strides to get prettier."
"Not the prettiest girl at the dance?!" That's putting it mildly, Frank.
We were the four-eyed, mustachioed, flat-chested, pilgrim shoe-clad, puffed-sleeve-adorned, mall-bangy, acnified, ogresque wallflower who couldn't even get her cousin to dance with her.
Not that I would know anything about that. Ahem.