1. Yesterday I got my first real new hearing aids in more years than I care to admit. So long, in fact, that they don't even make hearing aids like I used to wear anymore.
I'm now sporting top-of-the-line digital hearing aids and let me tell you, I'd like all the things to shut up.
I need to get used to hearing the beeps when my car starts, the fan inside my computer, the neighbor's barking dog that is INSIDE HIS HOUSE, random bumps in the night, the sounds of Mario Kart coming from my son's DSi, the sound my thighs make when my jean legs rub together, the hum of the fridge, THE WIND.
Whew. How do you live with all that NOISE, humans?!
That said, I am loving actually feeling like I can take part in a conversation again. I'm a new woman with Bluetooth hearing-aids and that means if you call my cell phone, it will sound like you're standing in my head talking to me.
I love technology.
I hate the sound my dog's nose makes.
2. Not that I spend a lot of time thinking about what I'd do if someone tried to smother me with a pillow, but every time I DO think about it, this is EXACTLY WHAT I SAY I WILL DO.
Get out of my brain, Internet.
3. Sorry to be so BASEBALL right now, especially in light of the amazing run the Pens are having, but I just want to say that I love Clint Hurdle and I love Jim Leyland, who you can still see hanging around PNC Park on occasion:
Before accepting the Pirates' managing offer two Novembers ago, Clint Hurdle called Jim Leyland. He sought some advice, and the old skipper came back with one slice above all.

"You need to think about living there," Leyland told Hurdle.

Pittsburgh, Leyland meant.

"Already have," Hurdle remembered replying. "Jim, one of my leadership bullets is that I'm going to live where I'm going to lead. I want the people to know this isn't just a summer gig for me. I'm going to get involved in the community."

Even he couldn't have imagined how involved.

Forget the certificate that shows Hurdle being born in Big Rapids, Mich. This man has become pure Pittsburgh, as much as Bill Cowher, the cheese lady at Penn Mac or the Ice Ball Man.

Oh, and Leyland, too.

Leyland was born in Perrysburg, Ohio, but you'll never find anyone more Pittsburgh than the straight-shooting, chain-smoking, heart-on-his-sleeve manager of the Detroit Tigers. He still lives in Mt. Lebanon.
But my question is this. ICE BALL MAN?!
Help?
And this:
"Be a part of Pittsburgh," he said. "Every one of them, to a man, told me that. Just like Leyland. And I'm happy to tell you they were right."
[fingerhearts]
4. Oh my God. Saddest thing ever:
WORTH TOWNSHIP, Pa. — A 58-year-old man died Thursday after trying to remove life support equipment needed by his stepson's 18-month-old son from a fire that has since been ruled arson, police said.
No words.
5. Sid is back, as is Sexhair, and I gotta tell you, we had a party. A literal party at my sister Pens Fan's house like it was Super Bowl Sunday and the Steelers were playing. A smorgasbord of foodstuffs, wine, and fun. And I spent the whole game, right up until the last second ticked away, absolutely terrified for Sid and his battered brain.
That feeling will go away soon, right?
P.S. Pissed-off Rangers fans may be my favorite fans ever. I saw a few New Yorkers on the precipice of catastrophic heart events last night.
6. The Mario Lemieux Foundation tells me that games donated via the Amazon Wish List are starting to arrive in their offices and that my readers are "awesome." True story.
They sent me a picture!
I also wanted to let you know that if you have XBOX 360 games that you no longer play, that are in good condition, and that are rated E or E10+ or C, you can donate those to the Lemieux Foundation too! Just send them to the attention of Nancy Angus, 816 Fifth Avenue, Pittsburgh, PA 15219 and we'll take care of getting them delivered!
Also, be sure to check the Wish List if you haven't yet donated to the effort and want to be a part of something special!
7. The Pittsburgh Home and Garden Show is planning to enforce exclusivity rules for 2013, meaning their exhibitors have to agree not to sell at any other event anywhere for the whole year.  I imagine this is going to go down as smoothly as a caterpillar trying to swallow a keyboard.
Good luck with that!
8. Pittsburgh Dad — The Parking Chair episode!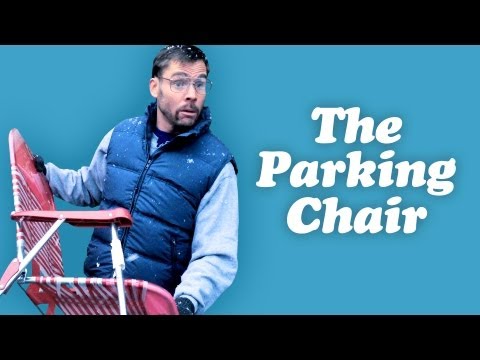 Also, I have in my possession a wedding photo submission that includes parking chairs. Can't wait for the next post in that series.
If you have wedding pictures showing how you incorporated your Burgh love into the ceremony or reception, send 'em my way! virginia [at] thatschurch.com!
9. I'm off to investigate a new mysterious noise I'm hearing now with these powerful bionic hearing aids. If it's a centipede burping, I quit.