1. My butler Woy, who has for years refused to spend a dime of money on the Pirates in protest of their decades long losing streak, has this year decided to throw caution to the wind and join the bandwagon as my co-pilot, so Mitch Donaberger was kind enough to modify the bandwagon cartoon to include him.
The Buccos are currently playing .400 ball. If, as the season progresses, I suspect Woy is a bad luck charm, I will instruct him in the ways of the tuck and roll right before I shove him off.
2. My brother-in-law Muchacho … wait! Before I tell you this, let's just once again watch Muchacho catch what must be the only foul ball ever caught at a baseball game ever in the history of time: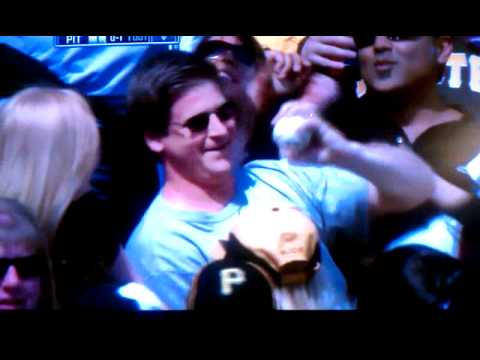 That was fun. Anyway, Muchacho told me that Tim Benz had Jaromir Jagr on his show yesterday or the day before and he asked Jagr how he deals with the boos he hears when he plays in Pittsburgh. According to Muchacho, Jagr responded as paraphrased thusly hereforetosuch: "You know, I don't really notice it that much. It's kind of like your wife when she's nagging you. Eventually you don't really hear it."
Again, that's a paraphrase, but I have to tell you, it's funny as heck and it made me love him a little bit again.
3.  But then the Flyers somehow beat us yesterday and I hate him with hellfire again.
4. We're not discussing that game. We're just not.
[Jedi mind trick handwave]
It never happened.
5. During the first part of the game yesterday, I was speaking to a blogging class at University of Pittsburgh – Greensburg. Just telling them my story and then giving them a bit of advice like, "Whatever you do, NEVER START A MAYORAL-THEMED DRINKING GAME! SHIT GOES DOWN!" Some of the students then presented their blogs to me for feedback and I wanted to share with you their blogs!
6. From the Gant Daily comes this from their police blotter from Lawrence Township, PA as sent to me by reader Gina:
Because if incredibly wealthy people come to your house, you batshit lunatic, and steal something, they ALWAYS go for the toilet paper.
7. Some awesome friends of mine, Yinz Teamers to boot are running the Pittsburgh Marathon relay because they want to die. And also because they want to raise money for sick kids. Check out their fundraising page which is raising funds for the Mario Lemieux Foundation!
Dear Mario, will you marry me? Circle yes or no.
Do you think somewhere Mario just took a sharpie to his computer screen and circled "no" like twenty times with gusto?
Anyway! If you have a few bucks, go ahead and donate!
8. This story about a Pittsburgh grandma written by her blogging LA-based granddaughter is going to melt your heart, make you want to bake and/or eat pizzelles and ladylocks, make you want to give that grandma a hug, and if you're like me, make you really really want a vintage black ring-a-ling rotary dial wall phone for your kitchen.
Also, the dining room wall art is so Burghy I can't stand it.
The picture of the keyring of keys with a note on them of, "I don't know where these go," is so beautiful.
LOVE! God bless Pittsburgh grandmas, especially the ones who make ladylocks from scratch.
(h/t Andrea)