If you watched the Pirates game yesterday late afternoon and early evening, something magical happened.
But first, let me preface that magic by saying the Pirates hit a rough patch this home stand. A real rough patch. The road went from asphalt, to gravel, to dirt, to Mars. Reports of whiplash were running rampant on the bandwagon. Emails and tweets rolled in. "You ready to take a match to your bandwagon?" "You playing with a lighter up there, Ginny?"
My mom said, "They're falling apart."
I said, "I'm not worried. They'll turn it around."
Fans were scared. The Trib said there was "no end in sight" for the tailspin, which is the most ridiculous thing I ever heard. The team held a players only meeting which hinted at desperation. Was this the beginning of the dreaded second-half collapse we experienced last season? commentators bloviated. There was much virtual wringing of the hands over the Pirates' woes.
Yesterday was a must-win game on more than just the win-loss level. More than just the wildcard level. This was a must-win game on the emotional level. This was a must win game that would decide if my bandwagon kept rocking and rolling along or if by morning light it was just me, Woy, and a half dozen people too drunk to jump off yet.
As the leader of the team, AJ Burnett got a little passionate yesterday.
He gave up a homerun to Hanley Ramirez at the top of the fourth inning. Rounding second base toward home, Ramirez did his signature eyes move to Burnett.
AJ didn't like this. AJ watched Ramirez do this — watched him round third base and AJ had a look on his face similar to how God looks at Satan. Similar to how I look at pigeons. Garfield looks at Mondays. Lukey looks at Peduto.
Burning. Eternal. Hellfire. Hate.
Then comes the sixth inning. Pirates are up eight to four and AJ strikes Ramirez out swinging.
Ramirez starts arguing with the home plate ump.
And AJ, in an epic burst of badassery, shouts at Ramirez to "Sit the f*#k down! Sit dahn!"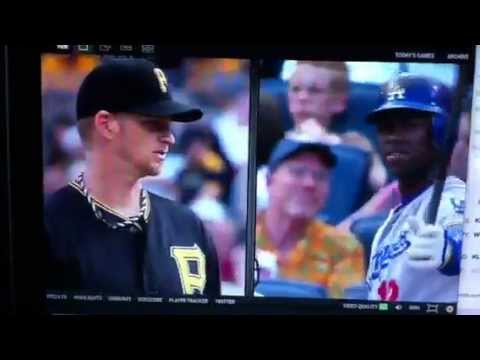 It was glorious and inspired and life-affirming and it was more.
It was more than just AJ telling Ramirez to sit his ass down on the bench —  to go put his bum in the seat, as my kids' bus driver tells the kids. "BUMS IN SEATS!"
It was more. It was AJ showing his leadership. His passion for this team. His desire to win. How much he cares about the Pirates.
It was AJ showing how much fight the team still has left despite the rocky road they've traveled recently.
It was AJ looking at those of you on the bandwagon who are out of your seats, toeing the edge as pothole after pothole lurches you about and rattles your brain, as the bumpy ground rushes by and you start to think, "I don't think I want to be here anymore." And you stand there thinking about jumping off.
AJ's talking to you. And he's telling you there are games left to play and fights left to fight and that the Pirates are still willing to go to battle.
He's telling you to sit the f*#k down.
Kindly oblige the man.