Monthly Archives: September 2012
I feel like it has been forever since we've chatted. My life, you guys, is wonderfully full of so many things. I sit on two nonprofit boards that I really care about and try to take an active part in — Genre's Kids With Cancer Fund and Haitian Families First. I have my kids and the restaurant (bank reconciliations can go suck a bag of you know what) and my consulting gigs and, of course, Make Room for Kids — lots being planned around that right now. Add to that meetings upon more meetings and the writing I do for the magazine and I don't think I've ever been this busy in my life — and it's great. Things are great. The noise in my head persists, but I've learned to cope. It's a big nothing to me anymore. I stay busy so I don't sit and listen to it all day. But that means I don't have time to just chat with you much anymore.
I hope things are good with you. I hope you're still riding my bandwagon. It's okay if you're drunk while you're on it. I'd be wasted too if I didn't have to drive the damn thing and as the former recording secretary of Norwin's Students Against Driving Drunk, that would be really really ironically bad.
I have some stuff I've written for Pittsburgh Magazine and I wanted to share those with you:
— Did you know that Pittsburgh is home to the second steepest street in the world? There is even some argument that it could be classified as THE steepest street in the world, but the arguments have to do with degrees and grades and slopes and smart shit like that, so I tapped out. Anyway, I have a post up at the magazine about some great accolades Pittsburgh has received recently from outsiders and one of those has to do with our biking scene. There's video of bikers trying to scale Canton Avenue and it's just crazy how steep that street is. Go check it out and let me know YOUR feelings about that pukey Gravity Room at the Children's Museum.
— My monthly column covers all of the odd clubs we have here in Pittsburgh. I spent hours and hours hunting down these clubs and found everything from broomball to underwater hockey to some "friendly" nudist clubs to a lock-picking club and more. A snippet:
And God help us if the Pittsburgh Small Breed Playgroup ever accidentally plans an event at the same dog park as the Pittsburgh Giant Breed Dog Meetup Group. Doggy carnage. And if the Pittsburgh Attachment Parenting Community should happen upon that? End of days.
Now, like I said, I did my research. Hours and hours spent in the blasted Internet wormhole, and I feel pretty confident that I found every unusual club there is in Pittsburgh. Did I do a good job or are there some odd, obscure clubs you know about that I didn't feature? Let me know. I'd love to put together a list, especially if there's something awesome like the Giant Turtle-Riders of Pittsburgh Club, because who wouldn't want to ride on the shell of a giant turtle?!
Giddyup and YEE-HAW!
Warning
: Use of undefined constant php - assumed 'php' (this will throw an Error in a future version of PHP) in
/nfs/c05/h01/mnt/75660/domains/thatschurch.com/html/wp-content/themes/thatschurch2012/archive.php
on line
46
Two of my sisters have the great misfortune of being married to men who are fans of football teams most of Pittsburgh would like to see wiped from the Earth. Tina Fey is married to a Cowboys fan and Pens Fan is married to a diehard Raiders fan, Muchacho. His iPhone cover is Raiders branded. He owns a multitude of Raiders apparel. He has Raiders ornaments on the Christmas tree and I'm pretty sure that's an affront to the baby Jesus Himself.
If a Raiders ornament even touched my Christmas tree, I would kill it with fire.
So you can imagine how much fun yesterday was for Pens Fan and Muchacho. Wait! Have we watched Muchacho catch the only foul ball in the history of foul balls ever in all of baseball? Let's do that first before we go any further: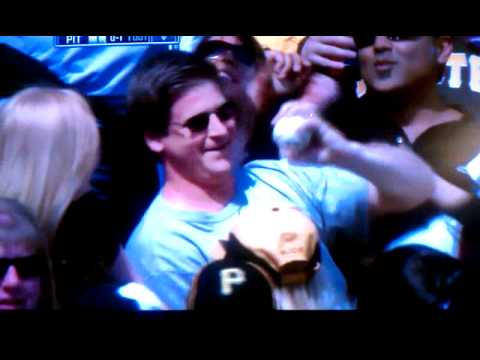 Good job, Muchacho. Next on your list … a cure for cancer.
Muchacho does this thing that's just super annoying and I think I've told you about this before. It's the Loud Clap. He does it whenever something good happens to any other team and something bad happens to the Steelers.
It's deafening and it's slow and deliberate and it's like a golf clap took horse steroids and it's meant to just be all up in your face like a clap has no business being. This is what it looks like.
It sounds like bombs going off in Beirut. It's enough to make a girl turn her hearing aids off.
We heard a lot of that clap during yesterday's loss to the Raiders. Did I just type that? Excuse me.
Yeah, we lost to the Raiders. Let's discuss?
1.The game started out fine enough, especially when we got to see Shaun Suisham make a tackle.
This was me:
2. Our running game just sucked every donkey omelet on the planet yesterday and then they went to Mars and sucked all of their donkey omelets. Just over 50 yards in rushing total? Is this the Haley era?
And Jonathan Dwyer lost a fumble, probably because the ball was not sticking around for that shit:
This was me:
But with more cowbell.
3. Antonio Brown, who I noticed has hazel eyes and I wonder if they are contacts iloveyouwillyoumarryme, fumbled twice. Once in the end zone, which he was lucky enough to miraculously recover:
Step off, pigskin, because my sister Pens Fan already self-united to Antonio Brown because when Antonio fumbled again and didn't recover it, her husband Muchacho was like this:
And she's thinking about divorcing him and staying imaginary-married to Antonio and his hazel eyes.
4. I can't really say anything bad about the Duke of Fug. He threw four touchdowns and that should have been enough to win the game had our defense stepped up in James' and Troysus' absence. God I hope I got the apostrophication right on that. God I hope apostrophication is word.
Speaking of the defense, Cabbage Patch Doll Baby Cici Donna Casey Hampton might have seen Jesus:
RIP Casey. May your heaven be filled with fluffernutter-flavored belly button lint.
5. We interrupt this WTRT to ask, "What in the hell is this?"
6. The penalties kind of killed us. Brett Keisel's crucial fourth-quarter penalty and Antonio also ran in a punt return for a touchdown that was negated by penalties and this was Muchacho:
This was Pens Fan:
This was their divorce lawyer:
7. It was up and down and up and down and I couldn't believe the Raiders were hanging in there with us. I mean, the Raiders! I bet people write that about the Pirates all the time. Heath and Mike Wallace were spectacular. Benny was hitting numbers and scrambling and being Benny. And up and down and back and forth and the score is just too damn close and I'm stress-eating like this.
You think I'm joking but there is wing sauce up my nasal cavity that proves otherwise.
8. Late in the 4th quarter, Tomlin decides to go for it on the fourth down but not before one last look at his balls:
It worked. There is celebrating and whooping and this is Steeler Nation
But that drive fizzles out. The Raiders have the ball and they are just freaking marching down the field as the clock ticks down and I am literally saying again and again, "I can't believe this is the Raiders."
It all comes down to this. A field goal. And not a rather long field goal.
We are crazy-rocking and biting our nails and stress-eating wings like Oprah when …
I kid. Where is Batman when you need him because Janikawhatever nails that bitch and the clock strikes zero and I am all:
While Muchacho is all:
And Pens Fan is all:
And Steeler Nation realizes we are 1-2 because we lost to the Raiders and Carson Palmer:
I'm horrified too. I'm ill. I've been sneezing out chicken wing sauce for a day.
Next week we take on the Eagles and I think you know how I feel about the Eagles:
May God have mercy on their souls.
Warning
: Use of undefined constant php - assumed 'php' (this will throw an Error in a future version of PHP) in
/nfs/c05/h01/mnt/75660/domains/thatschurch.com/html/wp-content/themes/thatschurch2012/archive.php
on line
46
Except I got TWO Dunkin' mugs, so that means two winners!
This was a hard choice. I mean, getting loudly yelled at that you have huge wedgie is bad. Saying "blew himself … um' … to death" live on the radio is hilariously bad. Saying the word "retarded" into a microphone at a Special Olympics event is beyond painful. Ripping your cousin's bathroom mirror off of her wall is horrifying. Passing out and puking in random bowls of noodles in the middle of Australia is horrifically awesome. Maternity underpants. GIANT MATERNITY UNDERPANTS. [shudder]
So I took your advice and I picked the winners to be, in no particular order …
The Special Olympics Horror Story by Pittsburgh Pita
The Day I Destroyed My Cousin's Bathroom by "Margaret"
Now I know lots of you didn't share your stories or have other stories to tell (I know I do. I have one from college.), so we're going to have this contest again soon and I'll find a kickass prize for it, because I think when we all realize what giant dorks we are, it makes us a stronger family.
Winners, email me at virginia [at] thatschurch [dot] com with your mailing address and I'll put your mug in the mail! "Margaret," your identity will remain a secret with me, but if your real name is Bruce Banner, it's going to make so much sense.
P.S. Random Bowls of Noodles would be a fantastic band name.
Warning
: Use of undefined constant php - assumed 'php' (this will throw an Error in a future version of PHP) in
/nfs/c05/h01/mnt/75660/domains/thatschurch.com/html/wp-content/themes/thatschurch2012/archive.php
on line
46
Jamie and Ali were hoping to find scholarships for their 46 kids in 46 days, but because Pittsburgh rocks, it happened in seven days.
Here's Jamie and Ali's brother Fredo showing you all the stars.*
From the Haitian Families First website:
You paid tuition for 46 kids, you bought 3 sets of uniforms for each of those children (which includes employing several seamstresses for several weeks), you bought the various school books 46 kids need for the entire school year, and you even covered a daily snack for every single school day this year for all 46 children.
Way to go everyone who was able to pitch in or who helped by spreading the word about the need. Every small bit of help comes together to form the support system in some way.
Now that that's done, go learn about the amazing Haitian Families First Live Rock n' Roll Karaoke Costume Party taking place at the Shadow Lounge!
Singing karaoke with a live band in front of a crowd while dressed as your favorite singer? I cannot wait to watch that.
Thanks again, Burghers! Group hug!
*Kervens was replaced by Nedge on the list because he qualified for a government program and no longer needed tuition assistance.
Warning
: Use of undefined constant php - assumed 'php' (this will throw an Error in a future version of PHP) in
/nfs/c05/h01/mnt/75660/domains/thatschurch.com/html/wp-content/themes/thatschurch2012/archive.php
on line
46
My sister Pens Fan went to the doctor today and was told she needs to gain weight.
So I ate a cinnamon roll this morning and told her to absorb the fat through osmosis.
I am nothing if not a giving person.
Also, I wish my doctor would tell me I need to gain weight. I'm so good at it! He'd give me an A+ for sure and would probably write a medical journal article about my superhuman ability to pack on the pounds using only Little Debbie and Starbucks.
What does that have to do with yesterday's Steelers game? Not a damn thing. But I guess we gotta talk about the game?
I watched the game at home with my husband, who had this to say about Ben Roethlisberger on more than one occasion: "He's such a moron."
1. The big story was Peyton Manning. The commentary was all about Peyton Manning. Cris Collinsworth loves Peyton Manning. So does Al Michaels.
I hate Peyton Manning.
In fact, I wrote a song about him. It goes like this:
I hate Peyton Manning with the Colts.
I hate Peyton Manning with the Broncos.
I hate Peyton Manning …

Jump in when you know it.
2. Officiation (spellcheck says … NOT A WORD. Don't care. Using it.) of yesterday's game was brought to you by replacement refs, who seemed a bit confused at times:
(source: Post-Gazette)
3. They went so far as to let Mike Tomlin challenge a play that happened prior to a new play being run. This didn't sit right with the Bronco's coach who started challenging things that didn't even happen to his team:
4. We interrupt this WTRT for the first stripey throwback sighting of the season!
5. The Steelers seemed … blah? Like blah. Nothing awesomely incredible happened. Other than Antonio Brown's game face:
(Photo: Post-Gazette)
That's the face of a man who could kill a diplodocus with his bare hands.
6. Jonathan Dwyer seemed to be the go-to rusher in Rashard's absence, almost scoring a touchdown at one point, but it was negated because his knee was clearly down. Even Vladimir Putin was like, "Nyet!"
I guess the ball guys are on strike too?
7. The Steelers were in it right up until Ben had the game in his hands with three minutes left and I said to my husband, "This is the part in the game where Ben either throws a touchdown pass or he throws an interception. There is no middle ground."
From my lips to the Karma Boomerang's perfect ears (I always say the phrase "perfect ears" like Wesley in the Princess Bride.) because …
And Coach desperately tries to stop what's happening, but not even I Dream of Jeannie can help:
8. With that interception returned for a touchdown, nothing could save us short of a miracle or a superhero.
(Photo: Post-Gazette)
If only, Hines. How's retirement? Prune juice doing it for you?
But seriously, if I were a man who wore a business suit to work, I'd ONLY wear Superman undershirts. That's just common sense.
Printer is jammed again? [Rips open shirt, popping all the buttons] I got this.
9. Again, it was all so blah. Troysus didn't save us, nor did he damn us. Haley didn't amaze us, nor did he greatly disappoint us. We just didn't do enough and Peyton Manning did more, because he had something to prove.
10. Next week, we take on the Jets, again with Haley's offense which includes a fullback which is apparently a big deal according to my husband, except I don't know what a fullback is. Or a halfback for that matter. I assume it has something to do with … backs?
Warning
: Use of undefined constant php - assumed 'php' (this will throw an Error in a future version of PHP) in
/nfs/c05/h01/mnt/75660/domains/thatschurch.com/html/wp-content/themes/thatschurch2012/archive.php
on line
46