Two of my sisters have the great misfortune of being married to men who are fans of football teams most of Pittsburgh would like to see wiped from the Earth. Tina Fey is married to a Cowboys fan and Pens Fan is married to a diehard Raiders fan, Muchacho. His iPhone cover is Raiders branded. He owns a multitude of Raiders apparel. He has Raiders ornaments on the Christmas tree and I'm pretty sure that's an affront to the baby Jesus Himself.
If a Raiders ornament even touched my Christmas tree, I would kill it with fire.
So you can imagine how much fun yesterday was for Pens Fan and Muchacho. Wait! Have we watched Muchacho catch the only foul ball in the history of foul balls ever in all of baseball? Let's do that first before we go any further: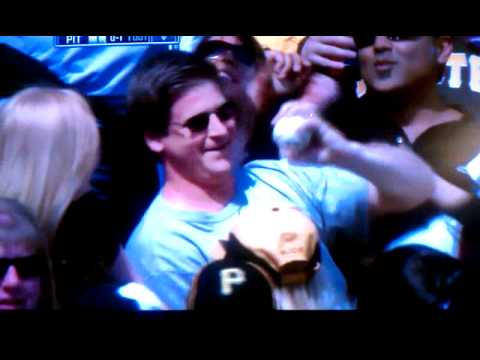 Good job, Muchacho. Next on your list … a cure for cancer.
Muchacho does this thing that's just super annoying and I think I've told you about this before. It's the Loud Clap. He does it whenever something good happens to any other team and something bad happens to the Steelers.
It's deafening and it's slow and deliberate and it's like a golf clap took horse steroids and it's meant to just be all up in your face like a clap has no business being. This is what it looks like.
It sounds like bombs going off in Beirut. It's enough to make a girl turn her hearing aids off.
We heard a lot of that clap during yesterday's loss to the Raiders. Did I just type that? Excuse me.
Yeah, we lost to the Raiders. Let's discuss?
1.The game started out fine enough, especially when we got to see Shaun Suisham make a tackle.
This was me:
2. Our running game just sucked every donkey omelet on the planet yesterday and then they went to Mars and sucked all of their donkey omelets. Just over 50 yards in rushing total? Is this the Haley era?
And Jonathan Dwyer lost a fumble, probably because the ball was not sticking around for that shit:
This was me:
But with more cowbell.
3. Antonio Brown, who I noticed has hazel eyes and I wonder if they are contacts iloveyouwillyoumarryme, fumbled twice. Once in the end zone, which he was lucky enough to miraculously recover:
Step off, pigskin, because my sister Pens Fan already self-united to Antonio Brown because when Antonio fumbled again and didn't recover it, her husband Muchacho was like this:
And she's thinking about divorcing him and staying imaginary-married to Antonio and his hazel eyes.
4. I can't really say anything bad about the Duke of Fug. He threw four touchdowns and that should have been enough to win the game had our defense stepped up in James' and Troysus' absence. God I hope I got the apostrophication right on that. God I hope apostrophication is word.
Speaking of the defense, Cabbage Patch Doll Baby Cici Donna Casey Hampton might have seen Jesus:
RIP Casey. May your heaven be filled with fluffernutter-flavored belly button lint.
5. We interrupt this WTRT to ask, "What in the hell is this?"
6. The penalties kind of killed us. Brett Keisel's crucial fourth-quarter penalty and Antonio also ran in a punt return for a touchdown that was negated by penalties and this was Muchacho:
This was Pens Fan:
This was their divorce lawyer:
7. It was up and down and up and down and I couldn't believe the Raiders were hanging in there with us. I mean, the Raiders! I bet people write that about the Pirates all the time. Heath and Mike Wallace were spectacular. Benny was hitting numbers and scrambling and being Benny. And up and down and back and forth and the score is just too damn close and I'm stress-eating like this.
You think I'm joking but there is wing sauce up my nasal cavity that proves otherwise.
8. Late in the 4th quarter, Tomlin decides to go for it on the fourth down but not before one last look at his balls:
It worked. There is celebrating and whooping and this is Steeler Nation
But that drive fizzles out. The Raiders have the ball and they are just freaking marching down the field as the clock ticks down and I am literally saying again and again, "I can't believe this is the Raiders."
It all comes down to this. A field goal. And not a rather long field goal.
We are crazy-rocking and biting our nails and stress-eating wings like Oprah when …
I kid. Where is Batman when you need him because Janikawhatever nails that bitch and the clock strikes zero and I am all:
While Muchacho is all:
And Pens Fan is all:
And Steeler Nation realizes we are 1-2 because we lost to the Raiders and Carson Palmer:
I'm horrified too. I'm ill. I've been sneezing out chicken wing sauce for a day.
Next week we take on the Eagles and I think you know how I feel about the Eagles:
May God have mercy on their souls.