What They're Really Thinking: GIF edition
Two of my sisters have the great misfortune of being married to men who are fans of football teams most of Pittsburgh would like to see wiped from the Earth. Tina Fey is married to a Cowboys fan and Pens Fan is married to a diehard Raiders fan, Muchacho. His iPhone cover is Raiders branded. He owns a multitude of Raiders apparel. He has Raiders ornaments on the Christmas tree and I'm pretty sure that's an affront to the baby Jesus Himself.
If a Raiders ornament even touched my Christmas tree, I would kill it with fire.
So you can imagine how much fun yesterday was for Pens Fan and Muchacho. Wait! Have we watched Muchacho catch the only foul ball in the history of foul balls ever in all of baseball? Let's do that first before we go any further: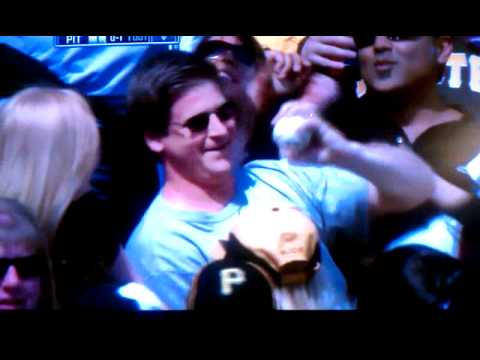 Good job, Muchacho. Next on your list … a cure for cancer.
Muchacho does this thing that's just super annoying and I think I've told you about this before. It's the Loud Clap. He does it whenever something good happens to any other team and something bad happens to the Steelers.
It's deafening and it's slow and deliberate and it's like a golf clap took horse steroids and it's meant to just be all up in your face like a clap has no business being. This is what it looks like.
It sounds like bombs going off in Beirut. It's enough to make a girl turn her hearing aids off.
We heard a lot of that clap during yesterday's loss to the Raiders. Did I just type that? Excuse me.
Yeah, we lost to the Raiders. Let's discuss?
1.The game started out fine enough, especially when we got to see Shaun Suisham make a tackle.
This was me:
2. Our running game just sucked every donkey omelet on the planet yesterday and then they went to Mars and sucked all of their donkey omelets. Just over 50 yards in rushing total? Is this the Haley era?
And Jonathan Dwyer lost a fumble, probably because the ball was not sticking around for that shit:
This was me:
Page 1 of 4 | Next page