A cool thing happened on the way to October for Make Room for Kids.
If you need to be reminded, Make Room for Kids is the initiative at the Mario Lemieux Foundation that you and I started which provides gaming to sick children in our city. So far we have outfitted the transplant unit, the cancer unit, and the frequent flyers unit at Children's Hospital of Pittsburgh and the entire pediatric unit at Allegheny General Hospital. And in 2013, we're going to announce the next phase which is going to serve some of the city's sickest kids.
You? Rock. [rocker kick] Ow. I'm old.
The Scarehouse (oooooeeeeeeoooo) joined up with the folks at Burgatory (yummmmmummmmmuuumm) to offer a new alcoholic (though non-alcoholic is an option LOL) limited-time-only ice cream shake called The Scarehouse Shake, with proceeds from the sale of the shake going to Make Room for Kids!
For one month I am asking you to eat burgers and fries and drink shakes FOR SICK KIDS. The only thing that could be better is if I asked you to eat carrot cake every day for a month for sick kids.
I'll do anything for sick kids and I'll do anything for a milkshake, so this really works out well for me and my fat ass. Is there a song called "My Ass Jiggle Brings All the Boys to the Yard" because if so, it's my new anthem, ringtone, and possibly funeral processional dirge.
Here's a little video featuring the awesome Laura Kelly in which she learns what's in the shake and let me tell you what's in the shake because I have already tried it and died and went to heaven where my ass jiggle was welcomed with open arms: ice cream, chocolate vodka, crack cocaine, unicorn breath, red velvet cake and more. All for sick kids in our city.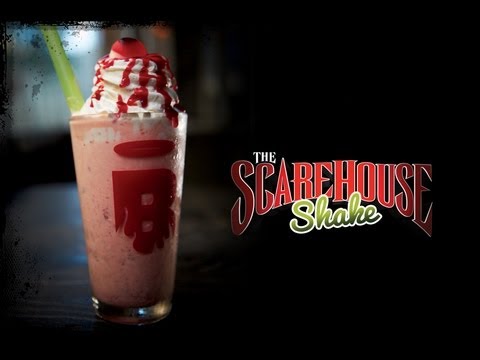 Don't you just want to sink your teeth into that juicy eyeball? Me too! And to think that by drinking a delicious shake you're funneling money to our city's sick kids via the Mario Lemieux Foundation.
There are two locations you can get this shake: The Waterworks location, which is where we filmed that video at buttcrack of dawn a.m. or the newly opened Robinson location at The Pointe.
They are available beginning tomorrow until the end of October, so please, for the kids, get a Scarehouse Shake at Burgatory.
Tell them PittGirl sent you and they'll be all, "PittGirl?! Didn't that bitch die?"