Monthly Archives: November 2012
If we're playing the word association game and I say "opera" you might come back to me with the following:
elderly
Depends
zzzzzzzzzzzz
toga
zzzzzzzzzzzz
But after seeing Don Giovanni at the Benedum, if you say "opera" to me, I'm coming back to you with the following:
Mmmmrowr.
Lust.
Passion.
Hell.
WTF?!
Angst.
LOL.
Grief.
MOAR PASSION.
MMMMMMROWR MMMMROWR MMMMROWR.
There aren't enough mmmmrowrs on the planet to express the mmmrowr factor of the lead in Don Giovanni, Michael Todd Simpson.
Man.
He is so good. So fun to watch. So believable. So yessss.
Not only is this opera so much fun in so many ways because of the comic relief provided by both the Don and his long suffering servent Leporello, and not only is this opera full of raw emotions from every part of the emoting spectrum, and not only do the voices soar, but by the time you get to the end and the Don in caught in the throes of punishment for his sins, you have no idea what you want to happen to him.
Do you want him to repent of his rakish ways and be saved?
Do you want him to go to hell for the torment he has brought to so many women?
I was torn. And so was his shirt. And it was coming off. And I was all, "FORGET HELL. JUST LOSE THE SHIRT ALREADY, FOR THE LOVE OF NIPPLES!"
And that's not an appropriate thing to scream out in the opera, I tell you. The little old ladies do not appreciate that, but deep down, they wanted the Don to rip his shirt off too, because we were getting a little glimpse of angsty heaven as he writhed on the floor singing his heart out in a shirt that was hanging onto one broad shoulder for dear life.
I don't want to spoil too much of this opera for you.  If you go, I hope I can convince you not to read the synopsis in the program book. You don't need it. If you don't already know the story of Don Giovanni, just go in not knowing. And tell me how that feels to get to the end and wonder what will happen. Of course it's in Italian, but the translation is projected above the stage, so you don't miss one single thing.
You have until Sunday to see this show, and after that you can kiss Michael. Todd. Simpson. arriverderci.
That's Italian for HAWT SEX.
True story.
P.S. Don't throw your bra on the stage. That's frowned upon at the opera.
Yesterday, we watched the first part of the game at my sister Pens Fan's house where we dined on the best kept secret wings in the eastern burbs: Black and Gold wings from Colonial Grille  in downtown Irwin.
Then we listened to the second quarter on DVE in the car heading to Upper St. Clair.
Then we watched the rest of the game with my in-laws who are visiting for a month from Cancun, Mexico (as you can imagine, this weather is not their favorito mucho mas queso. I think I got the Spanish right on that, si?).
This conversation happened as we all sat around the table eating while watching the game:
Sister-in-law, gesturing toward my mother-in-law: "Did you see her Halloween costume when she went trick or treating with the kids?"

Me: "No! Is it on Facebook?"

SIL: "Yep. She was a witch."

Me: [gets out phone to go to Facebook] "Una bruja! Nice."

My Spanish-speaking mother-in-law: "Si. A bitch."

SIL: "No. Witch."

MIL: "Bitch?"

Me: "Wah-itch."

MIL: "Witch?"

Me: "Yes, witch."

MIL: "No bitch?"

Me: "No bitch. WAH-ITCH."

MIL: "Witch."

Husband: "Bitch es perra"

Four Spanish-speaking nephews and nieces at the table: [GASP!]
So that was an AWESOME conversation and I didn't even have to ask anyone to say "fock-yous."
Although on the way home my husband and I had a five minute conversation on how to pronounce raccoon.
Me: "Rack-koon."

Him: "Rrrrrrrah-ken."

Me:"Rack-koon!"

Him: "Rrrrrrrrrrrrrrrah-coin"

Me: "Stop rolling your R!"

Him: "RRRRRRRRRRRRRRRRRRRRRRRRRRRRRRRack-kewn."
He's such a jerrrrrrrrrrrrrrrk.
Let's talk football.
1. Due to the crazed nature of the day yesterday, I was in and out of the game. Catching some things, missing others, so I don't have a whole lot of detailed game analysis to offer you, and I know how you read these things for detailed game analysis that you can whip out of your pocket and sound football-smart the next time you're around the watercooler all, "But seriously the Duke of Fug couldn't be fuglier on the secondary offensive tight end touchback mucho mas queso bitch."
2. Speaking of weird faces, is Eli Manning always so terrified?
These are Benny's game faces from yesterday:
That's the face of a man who has the munchies somethin' fierce, if you get my meaning, Ricky Williams.
Here's Eli Manning yesterday, shitting the shit out of his pants:
Poor Casey. Now he's all distracted.
3. The game started out scary with the Steelers going down 20 to 10 at one point with lots of things going wrong with the Steelers. They seemed out of it, especially Benny who allowed two turnovers. He wasn't himself. Like someone was hypnotizing the players or something. Even the Giants were acting a bit off.
He couldn't even throw the ball properly.
That's how my three-year-old niece throws a football. After I spin her around in a circle 20 times real fast.
4. Ike Taylor had an actual, honest-to-God interception yesterday, which hasn't happened in a long time. So long, in fact, that even the ball was confused:
5.And here's where we'll have a "Choose Your Own Adventure" section!
It's fourth and inches near the endzone and the Steelers are down by three.
Do you want A. the Steelers to go for it or B. the Steelers to line up for a field goal?
You chose B. Smart choice. Safe choice.
The Steelers line up for a field goal. Do you want A. Suisham to kick the field goal or B. Suisham to fake a field goal and attempt to run the ball through a throng of enormous football players hell bent on bashing his face into the turf?
You chose A. Good choice! The field goal is good and the Steelers have tied the game!
What? You chose B?!?!? WTF is wrong with you?
Here's what happens when you choose B:
Dumb move by Tomlin for sure. Now, don't get me wrong. If it had worked and Suisham had run the ball in for a touchdown, I would have started this post with a SQUEEEEEE and a huge picture of him running with the ball and I would have circled a random taut body part of his and I would have put some smiley faces next to it and I would have high-fived Tomlin for his baddassitude and balls of steel.
But this ISN'T a choose your own adventure book, so "dumb move" and terrified noodles it is.
6. Terrified Noodles would make a great band name.
But not as good as Petrified Noodles.
7. I missed the questionable call on Ben Roethlisberger's tuck or non-tuck, so you'll have to discuss that amongst yourselves in the comments.
8. Make a note. This is the new "blow to the head" in the NFL. (gif here)
Ribs are the new heads mucho mas queso bitch. — Roger Goodell
I'm going to get that embroidered on a pillow.
8. No matter. The Steelers still won despite those calls and we go to 5-3 and have a Monday night date with the Chiefs.
My sister and I had an actual conversation yesterday that maybe the oft-injured, rapidly aging Troysus needs to retire after this season.
What say you, Pittsburgh?
[ducks]
NOODLES!
1. Crazy busy week, so grab a cup of coffee and read all the stuff you might have missed!
Also, don't forget to send me your suggestions for my Yinzer Gift Guide. I'm getting very close to finalizing the dozen or so gift suggestions for the magazine.
2. I can't express to you how freaking excited I am about this.
Look out, Pittsburgh: Steel Town is getting a superhero whose power set doesn't include a whole lot of responsibility.

Debuting in February, the five-issue Marvel Comics miniseries Alpha by writer Joshua Hale Fialkov and artist Nuno Plati stars the young teenage boy who was created by writer Dan Slott for Amazing Spider-Manissue 692.

Alpha will pick up with Andy three months since readers last saw him. His parents are splitting, and he's moving to Pittsburgh — a step down from a "top-tier" town like New York City, says Fialkov, who himself was raised in Pittsburgh. "He's been demoted from this awesome life to nothing. All the cool stuff is gone."

"Look, any way I can ingratiate myself back to my hometown city and somehow inspire a free trip and free Primanti Brothers sandwiches, I'm 100% behind," he quips. "It's actually a city about reinvention. It's a city that has transformed itself over and over and over again.
Can I just say SQUEEEEE?
I'm a nerd. Shut up.
Also, wouldn't it be great if the comedic foil in the series was a group of hapless "criminals" who annoy Alpha while he's trying to fight the REAL crime? Like he's trying to fight SUPER MEGA DOOM DEATH MAN and along comes the Rogue Tree Pruner to clip away a branch or two?
Genius.
2. If you're looking for something to do tonight, how about Football Friday Happy Hour at the Heinz History Center celebrating their new exhibit Gridiron Glory? 
Beer, wine, sports, trivia, tailgating food. That's Pittsburgh heaven if all the pigeons are dead.
3. If you're looking for something to do tomorrow night, then you'll want to join me at Ti Kanaval at Elixir in the South Side to benefit Jamie and Ali's Haitian Families First. It's basically a Carnival-themed cocktail hour running from 6 to 9 p.m. featuring:
A big raffle prize of over $500 in Pittsburgh restaurant gift cards.
One complimentary drink with entrance donation of
Genuine Haitian jewelry for sale, including the famous Haitian Love Beads
an UNLIMITED DESSERT BAR and CANDY BAR.
They had me at "dessert."
Dessert completes me.
4. Hurricane Sandy was the big news of the day after the Steelers game so I didn't bother to write about it, but LOL at Emmanuel Sanders faking an injury and getting called to the principal's office about it.
Emmanuel Sanders should tell NFL officials he can't attend meeting about faking calf injury because he has diarrhea. Works every time.

— RandyBaumann WDVE (@DVERandy) October 31, 2012
He should just tell them he's on his period. THAT works every time.
5. Mister Rogers was a badass.
(h/t Charles)
6. "Taxi!"
HAHAHAHAH! HAHAHAHAH! HAHAHAHAHA!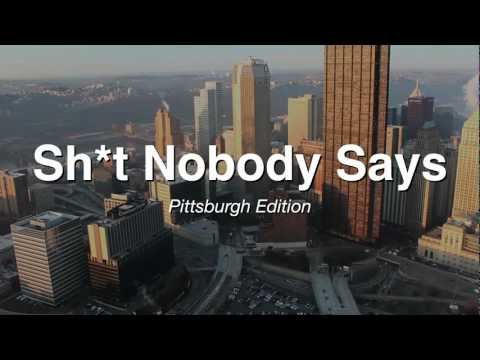 (h/t Goob)
7. WHERE THE HELL DID ALL THE CLARK BARS GO?!
8. Zombies loot Parkway Center Mall and Mayor Luke Ravey Rave is all, "Wait. It's still open?!?"
9. Children's Hospital of Pittsburgh took a lesson from other Children's Hospitals and had their window washers dress up as super heroes. LOVE.
(h/t Kimberly)
10. Pittsburgh Dad's Halloween costume is a riot.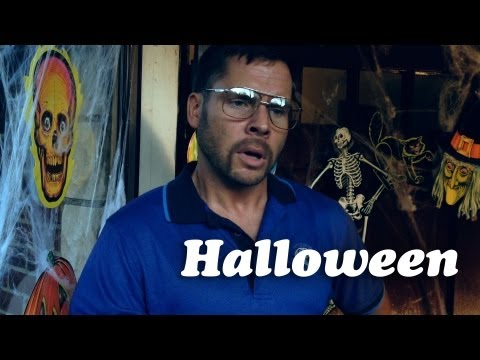 12. The lockout is not agreeing with Pascal Dupuis. 
It's not agreeing with me either.