1. It was at PF Chang's recently, in the Waterfront, celebrating my sister in law's birthday, that my kindergartener daughter began to experience some stomach discomfort. And by "stomach discomfort" I mean "a sudden onset of explosive diarrhea." Or if you're my sister Ta-Ta the Giant Breasted Poobah reading aloud in the fifth grade, you say "Dye-ah-hare-ah." I probably shouldn't make fun of her though, because in fourth grade while reading aloud I said "Mardi Grass" and boy, kids are cruel.
Anyway, as we prepared to leave the restaurant, my son pointed to his younger sister and asked, "What's wrong with her?" to which I replied discreetly, "She's just not feeling well. We need to go home now." And my daughter shouted at the top of her lungs in the crowded PF Chang's dining room, "YEAH! I HAVE DIARRHEA!"
So my point is, if you were trying to enjoy your dinner last Sunday at PF Changs and some half-Mexican whippersnapper started shouting about diarrhea … she's mine.
You can't have her.
2. Mayor Luke's campaign communications director was wanted. And I don't mean wanted to be hired. I mean he was wanted by the LAW.
Someone should hire me as a campaign consultant so I can impart wisdom such as this: "No member of your staff should have outstanding warrants for their arrest unless they were charged with killing pigeons, in which case, GET ON WITH THEY BAD SELF."
Also, this guy is 24. What does a 24-year-old know about running the communications for the re-election campaign of a mayor of a major city?! Get off my lawn and go buy me some Werthers, gosh darn it. The adults are talking. [shakes cute little cane]
3. Everyone who donates from now until $6,500 is entered to randomly win my Geno bobblehead! Geno wants you to help the sick kids.
Email proof of your recent donation to virginia[at] thatschurch.com to be eligible.
4. Here's the VCR the kids and families of the Children's Home share. That's right VCR. It looks like it's a combo, but as you can see almost all of their movies (and there aren't many!) are on VHS. We have got to fix that for them. They need bigger TVs! More movies! More smiles! And come April when we install all of the new technology, you're going to want to be able to say you pitched in a few bucks to help.
That's not even Ice Age 2 or 3. That's the FIRST Ice Age movie. And there have been like three new Disney princesses since Pocahontas! Ugh. We need to fix this, you guys.
5. DVE's Randy Baumann is putting on a show at the Thunderbird Cafe on March 1, and since he's my fake radio boyfriend, I'll be there. You should support him too. Tickets are hella affordable.
6. Pittsburgh has a new downtown comedy theater and tonight Pittsburgh Dad himself is cutting the ceremonial ribbon along with director extraordinaire Chris Preksta. Wish I could be there to give Pittsburgh Dad and his boss big yinzer hugs.
Learn more about the Arcade Theater here. There's a whole bunch of awesome kickoff events happening!
7. Warren Buffett's group bought H.J. Heinz for upwards of ALL OF GOD'S MONEY and all of Pittsburgh is asking, "BUT WHAT DOES THIS MEAAAAAN?!"
But I'm asking, "Does EVERYTHING need its own Terrible Towel?"
8. Lost historic buildings of Pittsburgh.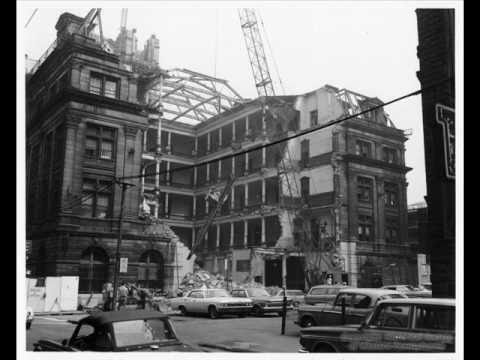 You know I'll be sucked into an internet wormhole researching some of these. BRB never.
(h/t JJ)
9. Jamie and Ali are up for a $5,000 grant from Tell Us World. Please click the "Love It" button if you love them like I do.
10. HAHAHAHAHAHA!
(source)
Wish is was a pigeon, but no matter what, Car Grill Owls is a great band name.
11. Pittsburgh is getting a new area code because we're almost out of 412s and 724s. Welcome the 878s.
I already don't answer my phone for 800s or 888s or 877s or 866s. So if you call me from the very similar 878s, you are SHIT OUT OF LUCK.
Your calls are never getting answered.
12. Pittsburgh getting an NBA team maybe?
Can they be called the Bees?
Black and yellow black and yellow black and yellow.
12. Now go donate. Be a part of something bigger than yourself. Throw the karma boomerang out there loaded up with positivity and just watch what it brings back to you.