(Chef at Light of Life Rescue Mission holding donated forks)
1. Oh. My. God.
Who would have thought one little Giant Eagle pharmacy rant would result in the madness it did and in the criticism toward me that it did?
You've got to go read the comments; you'd think I wrote a post about how we should kill all the puppies.
Oh, and I didn't even include the part about how that was the second time that day I had tried to pick up that prescription, as they claimed the first time that they didn't have it and they sent me away.
Anyway, KILL ALL THE PUPPIES. AND THE EAGLES WHILE WE'RE AT IT.
2. Speaking of birds, the Aviary hatched a new owl chick, and when I think baby owls I think this:
(source)
I was wrong, though, because theirs is a baby EAGLE owl. 
I looked into its eyes for ten seconds and I can tell you in no uncertain terms …
… that thing wants to kill me.
Why are birds so evil?
3. The first mayoral TV-spot is out and it is Bill Peduto's and I kind of love it. Well done.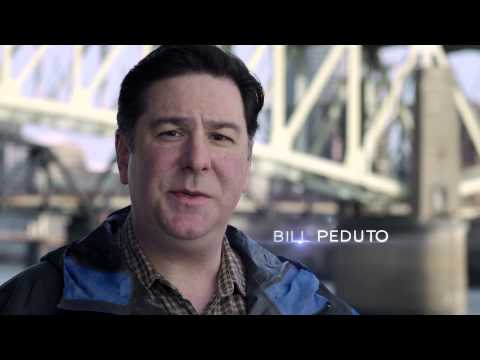 4. Speaking of mayoral candidates, Jake Wheatley's entire campaign site doesn't have a single picture of him on it. Not even the "About Jake" page.
Srsly.
And AJ Richardson not only has a DUI, a prior arrest, face tattoos, and the penchant for referring to himself in the third person,but his website has autoplay. 
When are these mayoral candidates going to ask my advice about fixing their shit? I mean, what does "skillful in morality" even mean?
Lukey would have been mayor for life if he would have brought me on board years ago to run the Office of Church.
5. Ay caramba, Penn Avenue Fish Company.
(h/t Woozle on Twitter)
6. The PensBlog boys have a gif of Sidney Crosby not blinking for 15 straight seconds during last night's game. 
You know who else does that?
Cyborgs.
7. Hadouken fights are the best Internet thing since the Rickroll, and this one from the Scarehouse made me pee a little it's so awesome:
You gotta see the whole set from the "fight." So perfect.
I hate that zombie. And that bunny. They look harmless until you're standing in a scary room in the dark and their noses are three millimeters from your neck, and you hear them inhale. [shudder]
8. Does hadouken really work?
I hope so.
Because I'm going to try it on the pigeons in Market Square.
[awkward kung fu moves] [HADOUKEN!]
9. Jamie and Ali McMutrie have HUGE news in that they won the prestigious Norman Borlaug Humanitarian Award!
They were flown to Las Vegas to accept the award in front of a crowd of 4,000. They're having a free reception to celebrate on April 18 in East Liberty. They'll be giving away Pens playoff tickets there too!
10. If you're looking for an easy way to give back to the community, I have it for you. The Light of Life Rescue Mission on the North Side is in need of forks for their meal services to the homeless. That's it!
Not plasticware, as they like to reuse, but any old, mismatched forks you might have around the house can be dropped off at the mission on the North Side. I did it and it takes five seconds to hand them over at the front desk.
11. Pittsburgh is the new Hollywood, as a new A&E series will be both set here, and filmed here.
12. WUT?
But the device attached to the man's body wasn't a bomb at all. He took road flares and taped them to his chest. He then stuck an iPod earbud up his nose and ran the cord down to the flares.
Can you just picture this idiot coming up with this plan? Taping the flares to his chest, looking at himself in the mirror all, "How can I make this look even MORE realistic? iPOD EARBUD UP THE NOSE, GENIUS!"
13. Finally, some awesome Pittsburgh tweets:
Newest douchey work term: "Searchandising".

— Pat Stack (@pat_stack) April 9, 2013
The bad news for Pittsburghers, is that the Penguin game ended just in time for the start of the Pirate game.

— patrick muldowney (@patmuldowney) April 10, 2013
Thatcher's middle name Hilda was not her birth name; she absorbed it from the first of many vampires she killed as a teenager.

— Stephen Harkleroad (@americancrank) April 8, 2013
The clothes cyclists wear, that's a joke right?

— Jordan W(@JordanWads) April 6, 2013
Just ran into the "hot" substitute teacher from high school. I told her it was my 40th birthday & she literally cried.

— Topher Berg (@pantster) April 5, 2013
Ray shero looks at the Nhl player list like he's going through baseball cards. " Need it, Need it, need it, Got It, need it, got it."

— It'sa Me, Chachio! (@chachisays) April 3, 2013
I call places to get put on hold. Where else do you hear Beethoven? #Culture

— Flick (@FlickFM) April 11, 2013
The 17 year cicada's are gonna come back this year and be like, "The Pirates still haven't had a fucking winning season?"

— RandyBaumann WDVE (@DVERandy) April 11, 2013
Randy wins.